Comcast & the Set-Top Double Bind
Comcast has always gone against the grain with its X1 video platform. At a time when other cable operators were minimizing their set-top investments, Comcast doubled down on its customer premises equipment to support the X1 service -- developing the X1 voice control remote and integrating smart home automation controls with video viewing.
But there's an issue with making the set-top the centerpiece of Comcast Corp. (Nasdaq: CMCSA, CMCSK)'s connected home. It forces consumers to focus on the TV when they might more easily turn to a smaller mobile screen, or even a retail speaker device like the Amazon Echo or Google Home.
The latest news from Comcast is word today that the company is making it possible for subscribers to find Tile devices (i.e., items tagged with a Tile tracker) by asking for a location via the X1 voice remote and then having the result show up on a TV display.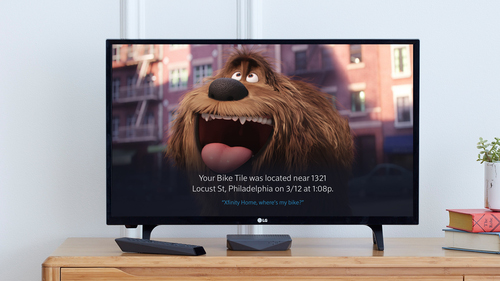 It's a very cool feature, but what are the odds I'm going to want to ask my TV remote to find my bike and then give me an address on my TV screen? Why wouldn't I use my phone rather than turning on the TV? Or why wouldn't I ping my Google Home for a more likely lost object (like my keys) and have it set off the Tile alert sound?
To be clear, Comcast isn't taking away functionality by introducing these TV integrations. Users can still use their phones to search for objects and set off location alarms. But there's a definite attempt to make the TV more relevant as a hub in the smart home. As far as Comcast is concerned, there's no reason to turn the TV off. Ever. (See Comcast Revs Up Smart Home Engine.)
There's another odd twist to the set-top scenario too. As much as Comcast may want to turn X1 into an always-on platform, it's also fighting to reduce set-top energy use. CableLabs recently announced that cable operators have signed on to another four years of a voluntary agreement to cut the energy impact of set-top boxes. And that initiative is having a remarkable effect. Voluntary set-top energy reductions are cutting down on 9.3 million metric tons of carbon dioxide annually, according to CableLabs, the equivalent of removing more than 2 million passenger cars from the road every year.
Not only is Comcast part of the agreement, but it's a star partner, having steadily reduced the energy footprint of its X1 set-tops year after year. Again according to CableLabs, Comcast's X1 set-tops went from using 270 kilowatt hours per year down to 155 kWh/yr in just four years.
But if Comcast wants to reduce energy further, encouraging customers to keep their set-tops constantly active isn't the way to do it.
Unfortunately for the cable company, there are both simpler and more efficient ways to manage connected devices than by relying on a set-top. The TV may be Comcast's primary interface in the home, but it's not the logical focal point for most smart-home consumers.
— Mari Silbey, Senior Editor, Light Reading