The cable industry is once again flirting with retail prospects. Both Comcast, the largest US cable operator, and Arris, the largest cable set-top manufacturer, are ramping up their rhetoric with hints, allusions and speculative statements about direct-to-consumer opportunities.
Nobody's making any promises, but the two inextricably linked companies are making it known that the retail channel is one they plan to explore.
Several sources at Comcast Corp. (Nasdaq: CMCSA, CMCSK) have now acknowledged that retail is a consideration. Most recently, one highly placed, but off-the-record source said he'd make a personal bet in favor of Comcast getting into retail sales of cable-related devices. Earlier in the year, Comcast VP Scott Boyarsky called the idea of the cable company selling retail devices "a possibility." (See Comcast Eyes Global Moves, BYOD & More.)
And a company representative told Fierce Cable this month that Comcast is actively evaluating an option to make its upcoming IP and High Dynamic Range (HDR) set-top available for direct consumer purchase.
Comcast has also invested significant resources in hardware development over the last few years. Instead of relying solely on manufacturing partners to design its devices, the company is now directing the development process around new products like its soon-to-launch gigabit gateway. (See Comcast Plans HDR Screenings for Rio Games and Comcast Readies D3.1 & RDK-B.)
And finally, Comcast has (or has access to) all of the components it needs to compete with products already on the retail market: hardware design experience, software experts and existing code libraries built around broadband and video applications and even voice control and natural language interface technology. Comcast can use all of these pieces to strengthen its current business model, but the fact that the company has taken ownership of them suggests that it wants to build a brand around these new capabilities. And there's no better way to do that than with direct-to-consumer products.
---
Want to know more about cable market trends? Check out our dedicated video services content channel here on Light Reading.
---
Arris Group Inc. (Nasdaq: ARRS) is more open about its retail aspirations. First, the company has a history of selling its cable modems at retail. The retail line hasn't been a major part of Arris's business, but it is a measurable one. And in April, the company introduced a new product family to retail shelves -- WiFi routers and extenders that also support Gigabit Home Networking (G.hn) power line technology. While previous Arris retail devices have been functional but uninspired, the newest routers are distinct in their design, suggesting that the company is interested in drawing more attention to its retail brand.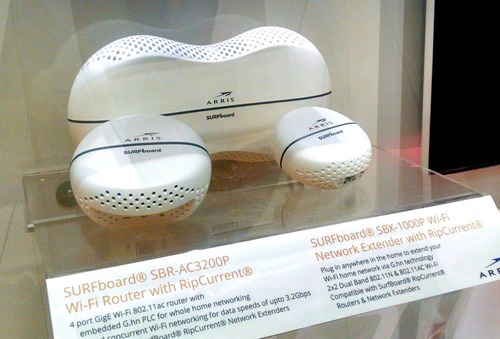 In further evidence of Arris's growing retail ambitions, executive Sandy Howe, who has touted the company's retail products for several years now, was recently given the job title of SVP and GM of Arris's consumer products. That title comes with the responsibility of overseeing all retail solutions and driving "growth in global retail markets." (See also Arris Eyes Retail Push.)
The kicker for Arris, however, comes from recent statements by CEO Bob Stanzione:
"I believe it's clear that your best growth opportunities are in areas where your market share is low. And our market share in retail is fairly low, although we've been selling products in retail, and we have a fairly sizeable retail business," said Stanzione at the Jeffries 2016 Technology Conference. "It's been focused on cable modems primarily, and we've sold millions of them through retail. But we are organizing ourselves to become more of a factor in retail, starting in the US, and we'll see where it goes beyond that."
"I think it's a great opportunity for us to grow our business," he added.
And why shouldn't the powerhouse companies of the cable industry start looking outside their wheelhouse? The consumer electronics industry is converging on cable. TiVo Inc. (Nasdaq: TIVO) has bridged both markets for years, and Roku Inc. offers an alternative retail set-top for cable services. Even Alphabet Inc. (Google's parent company) is trying to sell into the service provider business with its OnHub home gateway. (See Google Is Promoting OnHub to ISPs.)
Retail is a tempting target. (See Can Cable Do Products? )
If Comcast and Arris want to be successful, however, they'll have to remember one thing: they're up against bigger brands with a lot more experience in making retail solutions work. Developing a product isn't the same thing as making consumers fall in love with it. And on that front, both Comcast and Arris still have a lot to prove.
— Mari Silbey, Senior Editor, Cable/Video, Light Reading