Arris isn't giving up on set-tops, but it doesn't want to live and die by them either.
Video customer premises equipment contributes 45% of overall revenue to the Arris Group Inc. (Nasdaq: ARRS) business. Yet according to Raymond James analyst Simon Leopold's calculations, set-tops deliver only around 10% of the company's operating income. That's a massive disconnect on the margin front, and it shows just how much scale Arris needs to make any kind of profit on in-home video hardware.
It also points to why Arris is expanding into new technology fields and vertical sectors, continuing the M&A hunt as it did most recently with the acquisition of Ruckus. (See Arris Reels in Ruckus – Why I Like This Deal.)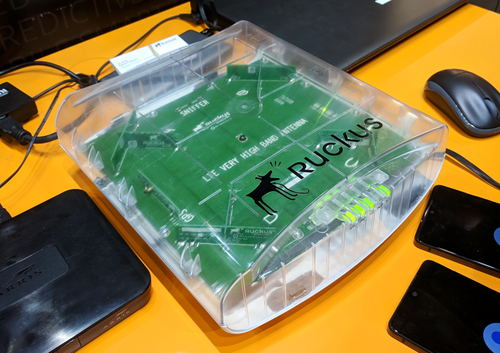 Speaking at The Raymond James 39th Annual Institutional Investors Conference, CFO Dave Potts acknowledged that Arris is actively working to diversify both its product and customer portfolios. Potts wouldn't confirm Leopold's calculations on set-top income (that's not a number Arris breaks out in its financials), but he wasn't shy about addressing the challenges in the set-top business.
Notably, the rising cost of memory has put pressure on set-top margins of late. DRAM pricing is affecting numerous companies, but because of the size of its set-top business, Arris feels the impact more keenly than most.
Referring to the effect of skyrocketing memory costs on set-tops, Potts commented, "I mean, hell, we're down $100 million on EBIDTA from that revenue, and indeed into this year, we anticipate that we'll have some more [negative impacts]."
Potts said he still thinks the set-top business is important for Arris because many operator customers want an end-to-end video solution. But he also emphasized that the company believes it must continue to look for new opportunities outside the set-top market.
"We do believe that we should continue to try to add to what we have on the franchise," said Potts. "And it can go in different directions. It could be enterprise. [CEO] Bruce [McClelland] has talked about, are there things in optical that might make sense along the way as well? And as we always are, we're always looking at and trying to refine that thinking."
---
Get your strategic roadmap to the technology trends and business cases shaping the cable industry! Join us for the Cable Next-Gen Technologies & Strategies event in Denver on March 20-22. Don't miss this exclusive opportunity to network with and learn from industry experts -- communications service providers get in free!
---
Interestingly, Potts even hinted that Arris could move up the stack in the enterprise sector in the future. While CEO Bruce McClelland has gently chided other hardware companies for trying to re-position themselves as software vendors, Potts seemed to suggest that Arris isn't averse to making further moves in software if the right situation presents itself. (See Arris CEO: Software Isn't Everything.)
"We have that physical layer," noted Potts, "so now do you move upscale into some of those layers and are there other acquisitions that can add on to that?
Above all, Potts made it clear that Arris will continue to use M&A as a tool for growth.
"Yes, I think M&A will continue to be part of what we do," said Potts. He added that, "What I worry about in five years from now if we aren't continuing to add, what is it that we will have? Who will we be as a business?"
— Mari Silbey, Senior Editor, Cable/Video, Light Reading