Full Duplex DOCSIS (FDX) technology -- the cable solution that's being designed to extend the life of hybrid fiber-coaxial networks -- has moved quickly from trial concept to specification development to a time in which some executives now believe it will take the place of any fiber-to-the-home plans cable companies might once have entertained.
Cisco Systems Inc. (Nasdaq: CSCO) Fellow and CTO of Cable Access John Chapman is one of those true believers. As someone on the front lines watching the technology unfold, Chapman predicts FDX will offer a cost-effective alternative to FTTH deployments in the near future while essentially equaling fiber in capacity and performance. That means cable operators will be able to continue using their existing coaxial plant without having to push fiber all the way to the end user.
"It's very promising, and it really helps scare away that conversion-to-fiber thing," says Chapman.
"We have ten gig down and five gig up," he adds, referring to FDX's promise of delivering 10 gigabits-per-second of bandwidth in the downstream and 5 Gbits/s in the upstream. "Who needs to go to fiber really?"
According to Chapman, CableLabs is in the process of wrapping up the Full Duplex DOCSIS spec and will likely finalize it before the end of the year. Then it will take a couple of years to produce the necessary chipsets and cable modems, but the technology should be ready for commercial deployment in 2020. CableLabs has even predicted that the availability of FDX products could come earlier, with the first deployments beginning in late 2018 or early 2019. (See Full Duplex, Coherent Optics Specs Advance .)
In the latest development of the technology, Chapman explains that his team at Cisco has helped solve the echo cancellation problem that's at the heart of cable FDX implementation. The concept is similar to one deployed in wireless networks, where an echo canceller literally cancels out the signal received in one direction so that a transmitter can send a signal at the same time over the same spectrum. However, wireless networks are point-to-point, while cable networks are point-to-multipoint.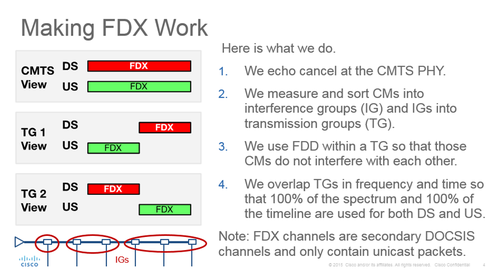 In order to deal with the complexity of a point-to-multipoint architecture, Cisco has come up with a way to lump cable modems that are close enough to "hear" each other into interference groups, and then combine those interference groups into larger transmission groups. Each transmission group is given a frequency assignment, and those assignments are appropriately mapped so that no signals interfere with each other, but all of the spectrum available is harvested for both downstream and upstream data delivery.
Cisco has shown previous demos of the echo cancellation technology, and Chapman says the company will have an updated demonstration on site at the SCTE Cable-Tec Expo conference later this month. (See Cisco Demos Full Duplex.)
---
For more cable market coverage and insights, check out our dedicated cable content channel here on Light Reading.
---
The gating factor in FDX development now is building hardware that will support the technology, and specifically cable modems that enable a much higher upstream return path than the split at 42MHz that cable operators have traditionally adhered to. However, those modems will come in time, and probably in a similar fashion to the way DOCSIS 3.1 modems have entered the market.
As for which cable companies are likely to be among the early FDX adopters, Chapman points to operators like Comcast Corp. (Nasdaq: CMCSA, CMCSK) and Cox Communications Inc. that are already driving to a deep fiber architecture, which will be necessary for Full Duplex deployments.
And what about Altice USA , which has already pledged to deploy fiber to the home in most of its US footprint? (See Altice Plans FTTH for Entire US Footprint.)
"We are working on changing Altice's mind," says Chapman.
Now that's a development that will be worth watching.
— Mari Silbey, Senior Editor, Cable/Video, Light Reading