Even though conference sessions don't kick off until tomorrow, and the exhibit floor stays closed until Wednesday, cable news from the SCTE/ISBE Cable-Tec Expo has already started to leak out. Once again this year it looks like the spotlight will be on cable's access network; how to extend its capacity, how to virtualize the network and how to automate it.
Following last week's announcement that WideOpenWest Holdings LLC (WOW) has begun deploying Nokia Corp. (NYSE: NOK)'s virtualized distributed access architecture (DAA) solution, both Casa Systems Inc. and Harmonic Inc. (Nasdaq: HLIT) released related news of their own. Casa confirmed that it's now in customer field trials with its Axyom Virtual CCAP (vCCAP) technology, and Harmonic stated that it has customers deploying its CableOS vCCAP solution both in the US and internationally. The two vendors have both focused on implementing their vCCAPs in Remote PHY configurations -- where only the PHY part of the CCAP is distributed out to the cable node and the MAC remain centralized -- but that doesn't mean they're wedded to that approach in the future. Both have said they can support whatever configuration operators need. (See also The Big Cable DAA Update.)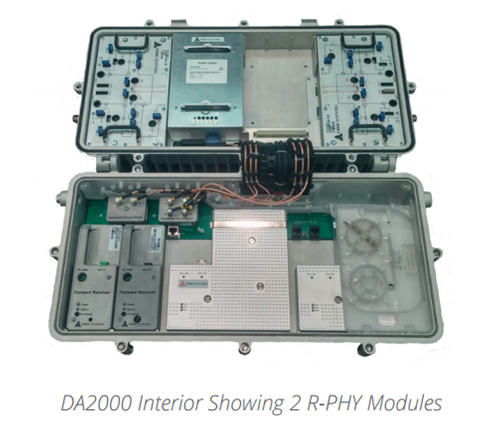 Sticking with the access network, Full Duplex DOCSIS (FDX) promises to be on prominent display at the Expo. With CableLabs ' announcement that it has released physical layer specifications for the technology -- which is expected to deliver 10Gbit/s bandwidth in the downstream and 5Gbit/s in the upstream over HFC -- the race is now on for the next big product development milestone. (See CableLabs Pushes Full Duplex Forward.)
Cisco Systems Inc. (Nasdaq: CSCO) recently talked about its efforts to implement echo cancellation in a point-to-multipoint FDX environment, and the vendor will have more to show at this week's conference. Hitron Technologies Inc. announced that it will do a joint FDX demo with Cisco showing that Hitron's DOCSIS 3.0 modems will work in conjunction with Cisco's echo cancellation technology. The important point there is that cable operators will be functioning with a large footprint of legacy DOCSIS 3.0 and 3.1 modems when FDX eventually arrives on the market in late 2018 or early 2019. Because of that, it will be critical that any new FDX components play nicely with cable hardware already in place. (See Cisco Makes the Case for FDX Over FTTH.)
For more intelligence on the access network, there will be multiple conference sessions during Cable-Tec dedicated to extending the capacity and increasing the flexibility of HFC infrastructure. Yours truly will moderate a session on Navigating America's Coming Broadband Cybergeddon with Comcast Corp. (Nasdaq: CMCSA, CMCSK), Arris Group Inc. (Nasdaq: ARRS) and Corning Inc. (NYSE: GLW) at the Innovation Theater on Wednesday afternoon. And Light Reading analyst and editor Alan Breznick will host a breakfast session that same morning on Virtualizing the Cable Architecture with executives from Charter Communications Inc. , Cox Communications Inc. and more.
---
For more cable market coverage and insights, check out our dedicated cable content channel here on Light Reading.
---
Of course not everything at the show will focus on the access network and virtualization. Cable operators and vendors will continue to emphasize innovation in the video user interface with particular attention to voice-enabled UIs. Along those lines, video platform company Espial Group Inc. has already announced that it will show off new integration of its Elevate software with Amazon.com Inc. (Nasdaq: AMZN)'s Alexa voice assistant. Espial says 40 operators around the world have deployed Elevate and that Alexa integration will soon be available both within their managed video environments as well as in conjunction with bring-your-own-device set-ups.
Managed WiFi service will also continue to be a big topic at this year's Cable-Tec conference. In the public WiFi space, Arris has announced the launch of its new Arris Wireless Intelligence solution. The company says the offering provides detailed and real-time analytics on metrics including data consumption, access point utilization and more.
Also with an eye toward moving cable outside the home, SCTE/ISBE is hosting a range of sessions on network convergence and the future 5G landscape. Among them, one session on Tuesday afternoon will have Cox examining backhaul requirements for 5G, and another at the same time will have Charter discussing fixed wireless access using a combination of WiFi and LTE technologies.
Conference-goers will have to spend their time wisely. There will be no shortage of demos to see and technology updates to hear at the 2017 Cable-Tec Expo.
— Mari Silbey, Senior Editor, Cable/Video, Light Reading