With SCTE Cable-Tec Expo less than a week away, the time is right for a review of how distributed access architectures (DAA) have advanced in the last year. There are several reasons this is so important. First, there's consensus in the industry that the move to distributed architectures is part of a once-in-a-lifetime, generational shift in the cable access network. Second, the new technology is bringing with it new competitors to the cable market. And third, the way the DAA revolution plays out will have a significant impact on how broadband is delivered in the future, part of a trend toward far greater network virtualization, automation and the drive to move many resources closer to the network edge.
So what's happened in a year? Quite a bit, but that doesn't mean there aren't still kinks to be worked out. On the one hand, CableLabs is already up to its eighth version of the Remote PHY specification, which is one of the main ways DAA will be implemented. CableLabs has also just launched a qualification program for testing Remote PHY devices. That means the spec is reaching a critical state of maturity, enabling operators to consider deploying Remote PHY technology at scale.
On the other hand, 2017 hasn't turned into a year of DAA deployments. If anything, cable operators are moving forward a little more slowly than expected, taking their time to ensure that all of the pieces fit together and that new technologies cooperate with existing back-office systems. There have been early trials this year, but vendors agree that 2018 will actually be the year that commercial deployments take off.
The advantages of DAA include digitizing the link between headend/hub and the cable node to improve signal quality and network management capabilities, as well as reducing the number of specialized hardware chassis (CMTS or CCAP) needed in cable headends and hub sites as bandwidth demands continue to grow. Cable operators won't roll out DAA upgrades everywhere at once, but many will deploy Remote PHY or Remote MAC/PHY devices as they split nodes to decrease the number of subscribers in different service groups. Many operators will also do it when there's an opportunity to get rid of a hub site altogether in favor of deploying more, and more intelligent, nodes. (See In Cable First, WOW Distributes & Virtualizes the Access Network.)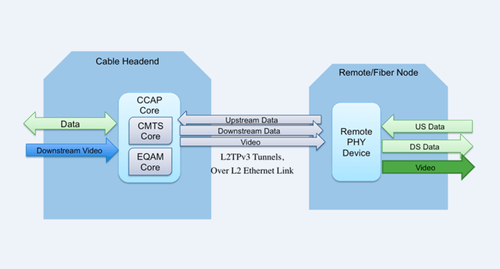 Deployments won't necessarily be easy. One of the biggest challenges with DAA technology today is interoperability. Vendors universally express their support for new optical nodes that are interoperable with CCAP cores from a variety of other manufacturers, and vice versa. However, interoperability is still largely an aspiration today. CableLabs said in a blog post just last week that "interoperable Remote PHY devices (RPDs) now exist and will be available on the market soon." Yet nearly every single DAA vendor that Light Reading has spoken with has been much more cautious in their assessment of the current interoperability situation.
Rei Brockett, a Remote PHY project manager for Arris Group Inc. (Nasdaq: ARRS), for example, says, "For the operators who are looking to do a mixed vendor solution, there's a little bit more of the manual [process] in the sense that they need to check with both of their vendors to make sure that what they want is supported well."
And Nokia Corp. (NYSE: NOK)'s head of cable business strategy, Jeff White, says, "I would be surprised actually if anyone is interoperable yet. I think if we take a snapshot a year from now or 18 months from now, that will be very different."
There's also a challenge of scale with the new optical nodes that operators plan to deploy as part of their deep fiber and distributed access architecture initiatives. Brockett talks about ambitious service providers planning to add thousands of new optical nodes per month. Indeed, Comcast Corp. (Nasdaq: CMCSA, CMCSK) has already said it wants to deploy 1 million new nodes over the next several years, while Cox Communications Inc. plans to increase its node volume by 8x in the same time frame. But field work means construction and labor, which often introduces unexpected costs and delays into the process. (See Big Year Ahead for Cable Network Capex .)
As for the DAA vendors, they're anxious to move forward. The incumbents in cable access technology like Arris and Cisco want to secure their hold on the market, while those companies with new network approaches like Harmonic Inc. (Nasdaq: HLIT) and Nokia want to prove their mettle. Here's a look at some of the top contenders across the DAA vendor landscape, from Arris and Cisco Systems Inc. (Nasdaq: CSCO), to Harmonic and Nokia, to Casa Systems Inc. and Huawei Technologies Co. Ltd. , all of whom will likely have new demos to share at SCTE Cable-Tec Expo in Denver next week.
Next page: A look at Arris