DENVER -- Cable Next-Gen Technologies & Strategies -- The transition to distributed access architectures may not be happening for cable as quickly as some in the industry would like, but without a doubt, the excitement behind DAA is building. Driving momentum is a combination of operators needing to solve the real estate crunch in headend and hub sites, and DAA movement happening in conjunction with -- and in some ways feeding -- the transition to virtualized cable access systems.
Speaking at Light Reading's Cable Next-Gen Technologies & Strategies event, SNL Kagan analyst Jeff Heynen pegged 2019 as the year that DAA deployments really kick off. He noted that in an SNL Kagan survey in 2017, 51% of respondents said they planned to begin deployments by 2018, but that in reality, this is turning into more of a testing year with commercial deployments pushed out to 2019.
Yet executives from Arris Group Inc. (Nasdaq: ARRS), Cisco Systems Inc. (Nasdaq: CSCO) and Casa Systems Inc. are all holding to a more aggressive timeline.
"I got a text this morning with a picture. We did apparently deploy this morning a Remote PHY at a system in Europe," noted Tom Cloonan, CTO for system architecture at Arris, also at the Cable Next-Gen event.
And Casa's principal solution architect Don Jones said, "I know that we're seeing a tremendous amount of activity in lab trials. We've got deployments actually to customers in four continents now... [and] over 40 trials in the field. So activity is starting to ramp up." (Editor's note: This quote was mistakenly attributed to Arris's Cloonan in an earlier version of this story. Apologies for the error.)
As activity increases, Heynen predicts that by 2022, revenue will hit $1.8 billion for DAA worldwide. And that DAA "is going to be a major, major factor in terms of the overall revenue pie for broadband access for cable in the next five years."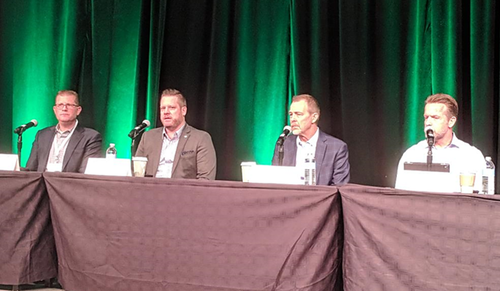 What will the split be between Remote PHY and Remote MAC/PHY deployments? That's less clear.
Not only is Heynen not willing to make a call yet on the likely deployment breakdown between the two types of distributed architectures, but vendors and operators alike seem to have conflicting ideas about where the market is headed.
Nokia Corp. (NYSE: NOK) Head of Cable Strategy Jeff White, for example, argues that operators don't have to pick one approach or the other anymore. Once the MAC layer is separated from the PHY, it can actually sit anywhere, whether that's in the optical node, back in the headend/hub site or somewhere else altogether.
"I think we're going to start thinking about things more in terms of an evolution from 'big iron' physical devices in the headend to virtualization, and we're going to worry less and less where that MAC sits," said White.
On the other hand, Comcast Corp. (Nasdaq: CMCSA, CMCSK), the largest cable operator on the planet, has committed itself to Remote PHY and SVP Elad Nafshi suggests the company has no intention of moving the MAC layer deeper into the network.
"It's hard for me to make those dollars and cents work," said Nafshi in a keynote presentation. Not only is it cheaper to centralize the MAC according to the Comcast exec, but it also makes the network easier to maintain.
---
You're invited to attend Light Reading's Big Communications Event -- the ONE event that delivers fresh perspective on the rapid transformation of the telecom industry and the road ahead. We'll see you May 14-16 in Austin -- communications service providers get in free!
---
Meanwhile at CableLabs , specification work is underway for both Remote PHY and Remote MAC/PHY technologies. The former is nearly complete, while the latter is still in the early stages. Jon Schnoor, the company's lead engineer for wired technologies, told the Denver audience that CableLabs is currently defining how a MAC Manager communicates to a Remote MAC/PHY device out in the cable network. Phase two of spec development will focus on the idea of a Remote MAC core which can exist in the node or elsewhere. And phase three will look at how to virtualize the CCAP entirely with an SDN controller for the control plane, software for the DOCSIS controller and a virtualized MAC core.
A big part of the specification development is defining the interfaces between network elements. The good news is that each phase in the process can build on the one before it.
And what about the issue of trying to define these specs even as the technology is already (in some cases) being deployed out in the field?
No problem, says Schnoor. CableLabs is specifically writing its specifications to support what's already in the market and to give operators the flexibility to choose whatever path forward makes the most sense for them.
It also helps that the companies now rolling out DAA technology are simultaneously helping to write the new specs. They're the experts, and unsurprisingly, a lot of the executives on stage at the Light Reading event are also on working groups within CableLabs. Given the proximity to CableLabs HQ, they didn't have far to travel.
Related posts:
— Mari Silbey, Senior Editor, Cable/Video, Light Reading