Cable DAA Debuts Worldwide

Comment (0)
For every named customer a cable vendor promotes, there are probably a dozen or more that prefer to remain anonymous. And that makes it difficult to assess how fast any particular technology is progressing.
Luckily, vendors do make reference to unnamed customers and to field trial numbers, even when they can't share details. At Light Reading's Cable Next-Gen Technologies & Strategies event recently, several companies did just that in their discussions of distributed access architecture (DAA) technologies.
Take Nokia Corp. (NYSE: NOK). The company that bought Gainspeed to bulk up its cable product portfolio has been very vocal about its DAA deployment with WideOpenWest Holdings LLC (WOW) in recent months. However, Nokia is far more active in the DAA space than the WOW deal alone suggests. (See In Cable First, WOW Distributes & Virtualizes the Access Network.)
"Right now we're working with pretty much every major cable operator in each region of the world," says Jeff White, head of cable strategy for Nokia. "So we're very far along with three or four cable operators in North America, Latin America, Asia and Europe... [These are] trials and beginnings of deployments."
Nokia was an early proponent of the Remote MAC/PHY architecture for DAA, but the company introduced a flexible access solution last fall allowing cable customers to deploy nodes that can be used in either a Remote PHY or Remote MAC/PHY configuration. (See Nokia Debuts First Fully Virtualized Cable Access Architecture.)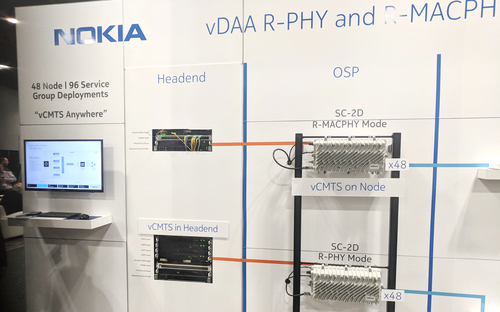 Then there's Casa Systems Inc. Casa has talked in the past about customer trials with its virtualized CCAP solution, and it has referenced interoperability tests with its Remote PHY technology. However, further information on R-PHY trials specifically has been scarce... until now.
Casa's Don Jones, a principal solution architect for HFC, says that the company is doing significant lab trial work and has more than 40 field trials underway. Jones also notes that Casa has actual deployments with customers across four continents. What exactly does that mean? "That means RPD nodes out in the field feeding live customers," says Jones. "So true active deployments with paying customers."
Both Cisco Systems Inc. (Nasdaq: CSCO) and Arris Group Inc. (Nasdaq: ARRS) have been a bit more circumspect about the volume of DAA work they're doing. However, Cisco said last fall that it has commitments from two customers -- Korea's D'Live and South Florida's Blue Stream -- for Remote PHY deployments. And Cisco's John Chapman, a fellow and CTO of the cable access business, says that he expects 2018 to be an important year for the company's Remote PHY business.
Note that SNL Kagan analyst Jeff Heynen isn't quite as optimistic about DAA timing, but vendors are standing firm. (See Snapshot: Cable Access, a Market in Transition.)
As far as Arris is concerned, the company just announced its first Remote PHY customer through a deployment with Danish cable operator Stofa. The vendor is keeping details about other trials and deployments close to the vest, but its continued work around DAA interoperability suggests new information will start trickling out in the not-too-distant future. (See Arris Sees More Gold in Next-Gen Tech and Arris & Cisco Prove DAA Interoperability.)
---
You're invited to attend Light Reading's Big Communications Event -- the ONE event that delivers fresh perspective on the rapid transformation of the telecom industry and the road ahead. We'll see you May 14-16 in Austin -- communications service providers get in free!
---
The big US cable operators have also dropped hints about their DAA plans. Comcast Corp. (Nasdaq: CMCSA, CMCSK) has talked about its goal to start deploying new DAA nodes later this year that can be upgraded via software to support Full Duplex DOCSIS. (See Comcast: New DAA Nodes to Be FDX-Capable.)
And Tee Harton, a senior director of engineering at Cox Communications Inc. , says his company will also start deploying deep fiber in conjunction with DAA in 2018.
Even smaller operators are looking at DAA in the near term, according to Wayne Hickey, a product marketing advisor for Ciena.
"[It's] not when DAA; it's DAA. 2018's really the year of that commitment from the cable operators," he says.
— Mari Silbey, Senior Editor Light Reading