Slightly ahead of internal schedule, Arris is loading up for general availability and commercial deployments of its Remote PHY solution before the end of the year. Speaking on the company's third-quarter earnings call late Wednesday, the president of the network and cloud business, Dan Whalen, said that Arris is shipping its R-PHY solution today and will roll the product out with multiple undisclosed operators in Q4.
"Q4, we'll have a couple of customers deploying, with live customers on our Remote PHY product," said Whalen. He explained that in that scenario, the company's E6000 CCAP chassis, "through a software upgrade, becomes a MAC core managing Remote PHY devices that reside outside in the field."
Arris Group Inc. (Nasdaq: ARRS) actually announced an initial deployment of Remote PHY technology with Danish service provider Stofa back in May. But in discussing that news last month, R-PHY project manager Rei Brockett suggested that the Stofa rollout didn't represent general availability of the R-PHY product. Instead, she saw it as more of an early learning experience, and predicted Arris's Remote PHY solution would hit GA in 2018. Whalen's report beats that forecast by at least a couple of months. (See Arris Wins Remote PHY Deal With Stofa and The Big Cable DAA Update.)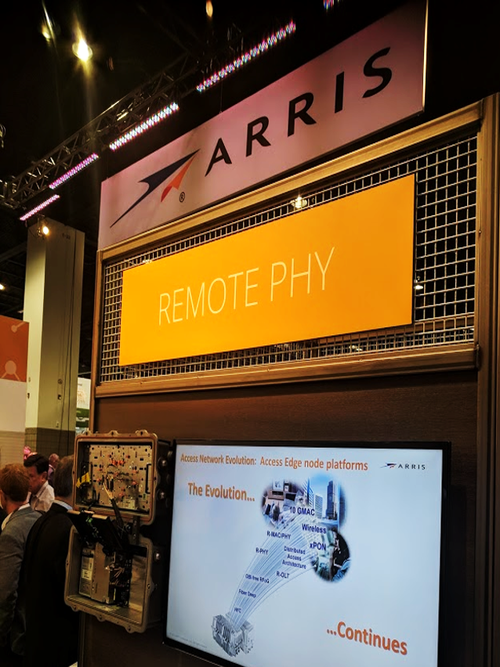 On the Q3 earnings call, Whalen noted that Arris is also developing a virtualized MAC core solution and that the company demonstrated an early version of the product at the recent SCTE/ISBE Cable-Tec Expo show in Denver.
"The other thing that we're working on, later on, years out," said Whalen, "[is] more of the virtual platform where we take all of that expertise and code that we have and figure out how we build it and put it on to a cost-based server that could operate out of a data center or headend. And we're already demonstrating the early versions of that product, and people will adapt it as they need it."
The Remote PHY news capped off a positive quarter for Arris's network and cloud business, which saw revenue up 9% sequentially and 10% year over year. Overall, the quarter produced mixed results for the company. Earnings easily beat analyst estimates with the earnings-per-share price coming in at $0.80, compared to forecasts of roughly $0.62 to $0.69 EPS. However, revenues missed slightly, coming in at $1.73 billion, compared to an average analyst forecast of $1.77 billion, on relative weakness in the customer premises equipment (CPE) business. CPE sales were up 2% quarter over quarter, but down 5% year over year.
---
For more cable market coverage and insights, check out our dedicated cable content channel here on Light Reading.
---
In other highlights from Q3, Arris is continuing to do well with its CCAP router platform, and the release of a new downstream card for the chassis in the third quarter improved both sales and margins as operators took new software licenses to increase their CCAP capacity.
On the CPE front, sales of DOCSIS equipment were up in the quarter, but Arris continues to feel the negative effects of lower DSL equipment sales, as well as margin pressure driven by higher-than-average memory prices. Set-top sales were up 7% sequentially, but down 12% year over year.
Arris pointed out some positive customer news. In Q3, the company announced an agreement with Altice to provide 4K HDR set-tops globally, and a deal with an unnamed Tier 1 operator to supply 4K set-tops based on the Android TV platform.
All eyes are still peeled for news on whether Arris will be able to close its proposed acquisition of Ruckus Wireless as part of a deal worth $800 million in the near future. That transaction is contingent on the $5.9 billion acquisition of Brocade Communications Systems Inc. (Nasdaq: BRCD) by Broadcom Corp. (Nasdaq: BRCM), which has hit multiple snags in the last few months. (See Is Ruckus Right for Arris? and Is Trouble Brewing for Brocade, Broadcom?.)
Even Arris CEO Bruce McClelland expressed some exasperation with the delay, saying at the close of the earnings call, "We wait impatiently to complete our acquisition and welcome the Ruckus team into the Arris fold."
Currently, McClelland said that Arris is on track to meet its financial projections for full-year 2017, excluding any outcome with Ruckus. Arris shares jumped sharply immediately following the Q3 earnings announcement, but dropped and then flattened out again close to pre-announcement levels a short time later.
— Mari Silbey, Senior Editor, Cable/Video, Light Reading