Despite the rise of video cord-cutting and the ongoing saturation of the broadband market, the future of the US cable business still looks bright when viewed through an updated lens, according to a top industry analyst.
While those video and broadband subscriber scenarios outline the well-understood bear case for cable, the new bull case for the industry "hinges on higher margins and lower capital intensity" and is receiving far less attention than is warranted, MoffettNathanson LLC analyst Craig Moffett explained in an 88-page report focused on the US cable market released Monday.
"We believe that consensus margin estimates for the major cable operators are too low, and capital intensity estimates are too high," Moffett wrote.
While cable's video business is facing genuine headwinds as subscriber levels fall and video service margins come under pressure, capital intensity is expected to fall amid decreasing spending on set-top boxes and other consumer premises equipment (CPE) as such major operators as Charter Communications Inc. complete their all-digital transition while Comcast Corp. (Nasdaq: CMCSA, CMCSK) converts the bulk of its video base to its X1 platform.
Using Comcast as an example, Moffett notes that about a third of total capital spending goes toward residential CPE, with more than half of that spending related to set-top boxes.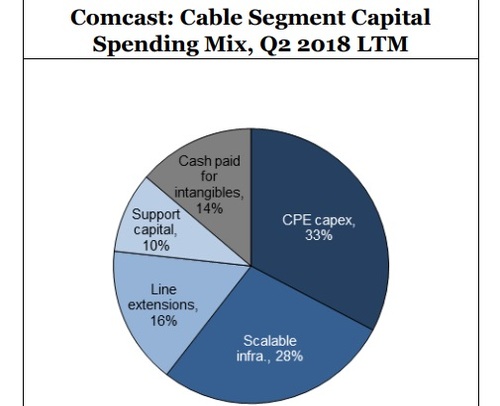 Additionally, most cable operators are supporting IP-based versions of their service that work with retail devices like Roku players and Apple TV boxes. Though cable operators typically have downplayed these retail options, that appears to be changing, Moffett noted, pointing out that Comcast is starting to emphasize a box-less video service in the MSO's Boston region.
"We expect experiments like this one will eventually become the norm," despite the impact it would have on an operator's ARPU (average revenue per unit}, Moffett explained. "We believe tech-savvy customers will increasingly demand to be rid of their set-top boxes."
And even as cable video subscribers decline and some customers move to skinnier bundles, cable margins have still managed to steadily increase, driven by a simple shift in product mix to higher-margin broadband services.
Moffett says another contributor to improving cable margins -- and one that typically receives less attention -- is the ongoing shift in the bundle mix as more customers take only broadband from the MSO. Cable operators (and other service providers) usually offer discounts for bundled services, but, notably, broadband prices reflexively rise as bundles are unwound, resulting in still higher margins on an already high-margin product.
"Standalone broadband prices are higher, by definition, than are the discounted prices for broadband when bundled with video," Moffett explains. "Average (reported) broadband ARPU is, naturally, a composite of the prices paid by both groups."
Also playing a part in the margin story is that the growth rate of video programming costs has "shifted into a sharply lower gear," the analyst notes.
---
Home in on the opportunities and challenges facing European cable operators. Join Light Reading for the Cable Next-Gen Europe event in London on November 6. All cable operators and other communications service providers get in free!
---
Moffett said Cable One Inc. illustrates a brief glimpse into the future of the cable industry. Cable One has shed nearly half of its video subscribers while broadband subscriber growth has been lagging its publicly traded US peers.
Despite that, Cable One (excluding its acquisition of NewWave) is producing 28% higher EBITDA than it was four years ago, driven in large part by margin expansion of its broadband service alongside cost cutting, the analyst noted. (See Cable One Bids $735M for NewWave.)
Moffett doesn't hold Cable One as a "model" that other MSOs should follow (he's still skeptical of its long-term sustainability and has a "Sell" rating on the stock). However, he believes that Cable One "stands as a compelling case in point," as even the most bearish forecasts for other major US cable operators don't call for video losses anywhere near what Cable One has suffered.
Among operators covered, Charter is Moffett's preferred pick in the sector, as he is reiterating a "Buy" rating and upping the price target to $470, up from $436.
Comcast is his most attractive stock in US cable, maintaining a "Buy" rating and a target price of $41, though enthusiasm is tempered by the risks of seeing Comcast possibly overpay for Sky . (See Eurobites: Sky Shareholders Spurn Comcast Offer and Fox's Sky Offer Doesn't Trump Comcast's, but Could Extend Bidding War.)
Moffett also reiterated "Buy" for Altice USA and a price target of $25.
— Jeff Baumgartner, Senior Editor, Light Reading