Despite its origins as a best-effort networking technology, WiFi has evolved in recent years to take on many of the characteristics of its cellular rivals. Why? Because as a cheap and fast alternative to mobile connectivity, WiFi has expanded relentlessly over the last decade. And that's led to rising consumer expectations, new commercial ambitions and massive development efforts around improving WiFi performance.
In keeping with WiFi's evolution, the Wi-Fi Alliance is out today with phase two of Wi-Fi Vantage, an umbrella brand for what the Alliance considers some of the most important components of the wireless technology. Previously Vantage encompassed certification for 802.11ac (a.k.a. gigabit WiFi), and Passpoint, which enables smoother hotspot roaming. Now the Alliance is adding certifications for Agile Multiband, starting today, and Optimized Connectivity, beginning later in the year.
"Managed networks are kind of becoming the new normal," says marketing vice president Kevin Robinson by way of explaining the purpose of Vantage as a set of WiFi standards. Operators increasingly want more control over WiFi connections, and by requiring Vantage compatibility from hardware manufacturers, they can gain that control, opening up avenues for quality-of-service improvement and for creating new managed-service revenue streams.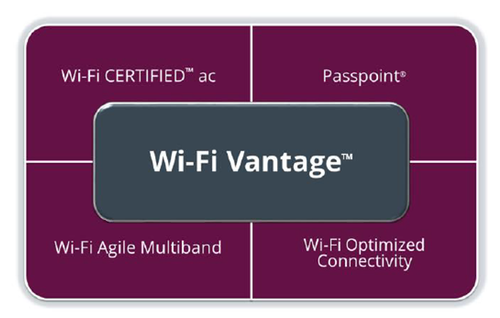 As a quick primer on the new aspects of Vantage, Agile Multiband helps connected devices avoid the "sticky client" syndrome, where the mobile phone, tablet or laptop tries to stay linked to one access point (AP) even while another could provide a better signal. The technology helps determine the best AP, band and channel in any given circumstance and then intelligently steers the device to that connection. According to the Alliance, Agile Multiband also re-authenticates devices with WPA2 security quickly enough that a user could continue a voice-over-IP conversation while moving from AP to AP without ever dropping the call. The technology also works even when there's only one AP nearby by choosing the best frequency (i.e. 2.4GHz or 5GHz) on offer.
Optimized Connectivity, meanwhile, provides faster discovery of available connection points. It also helps with initial authentication and IP layer connectivity. Importantly, the technology reduces management traffic between a device and an access point, making wireless transmission more efficient.
---
Want to know more about cable's wireless ambitions? Check out our cable WiFi channel here on Light Reading.
---
Robinson suggests that the many new ways operators are using WiFi today is evidence that a standardized technology approach like Vantage is needed. He cites examples including Comcast Corp. (Nasdaq: CMCSA, CMCSK)'s Xfinity XFi, a managed home WiFi solution, and AT&T Inc. (NYSE: T)'s practice of offloading cellular traffic to managed WiFi hotspots in places like hotels and airports. (See Comcast 'X1 of the Internet' Arrives.)
While there are already technologies on the market that provide advanced WiFi capabilities with certain devices, Robinson says the Alliance tends to think of those solutions as proprietary, while standardized certification should ensure an open ecosystem with a wide range of compatible hardware.
"We suspect that operators will be requiring the capabilities that come with Wi-Fi Vantage," says Robinson. "In fact the program itself is something that operators have worked on with Wi-Fi Alliance to drive more commonality in the devices they see joining their networks."
Of the new components in Vantage, Agile Multiband is based on the IEEE 802.11k, 802.11v, 802.11r and 802.11u standards. Optimized Connectivity is based on the IEEE 802.11ai and 802.11k standards.
There are currently around 200 Vantage-certified products based on release 1.0 with 802.11ac and Passpoint.
— Mari Silbey, Senior Editor, Cable/Video, Light Reading