Have a site that needs WiFi in a flash? Ericsson's got it covered.
Ericsson AB (Nasdaq: ERIC) announced at the Internet & Television Expo today that it's launching Wi-Fi on Wheels, a mobile broadband solution that delivers WiFi out of a van and can support an estimated 2,500 people. Comcast Corp. (Nasdaq: CMCSA, CMCSK) is the first customer for the new WiFi product, and the cableco says it will use the solution to spread WiFi to more locations.
"Comcast manages the world's largest WiFi network and we continue to look for innovative ways to provide consumers with access to XFINITY WiFi in even more places," said Eric Schaefer, SVP and general manager for Comcast Cable, in a statement.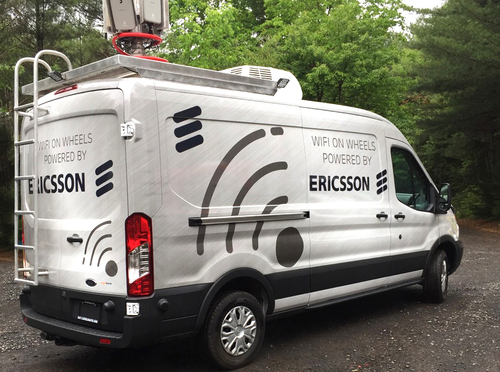 Ericsson's WiFi van comes equipped with six WiFi access points, non-line-of-sight (NLOS) microwave backhaul support and backup power. It's designed for pop-up events, disaster recovery sites and any remote location needing broadband connectivity. The solution, which is built into a Ford Transit 350 cargo van, also supports optional wireless backhaul and offers modular deployment elements.
For Comcast, the ability to put WiFi on wheels means the cable operator cannot only deliver service to new sites, but presumably also promote its Xfinity WiFi brand even in areas that Comcast doesn't traditionally serve. As Comcast looks ahead to the potential for developing a nationwide, WiFi-first mobile service, the ability to extend its brand should prove valuable as a marketing and customer recruitment tool. (See Analysts More Than Bullish on Comcast MVNO.)
— Mari Silbey, Senior Editor, Cable/Video, Light Reading