Will SD-WANs Spark Cable Competition?
NEW YORK -- Future of Cable Business Services --- Cable's recent entry into software-defined wide-area network (SD-WAN) services could be a real game-changer in more ways than one, Light Reading Cable/Video Practice Leader Alan Breznick said here today. As major operators try to boost their stake in the enterprise market, SD-WAN services could let them expand beyond their regional footprints more easily, but also potentially put them in competition with each other, he said.
In his opening presentation at this 11th annual event, and in an interview prior, Breznick noted the enterprise sector is the smallest for cable right now, generating $1.88 billion a year, according to the latest data compiled by SNL Kagan. But, he added, enterprise is also the fastest-growing sector with a 49% compound annual growth rate. It is a space into which cable would like to expand further, he noted, and SD-WAN services could represent one way to do that.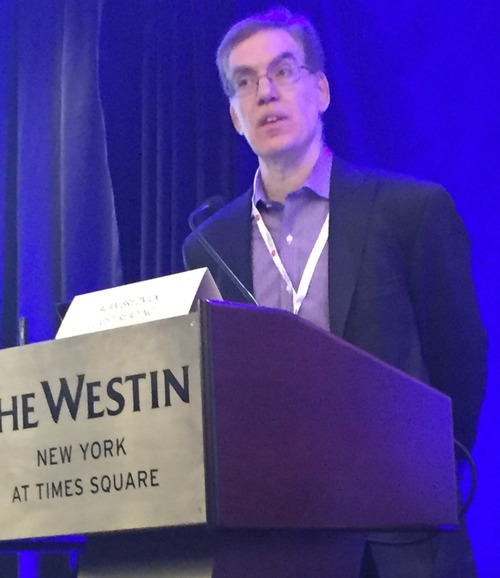 Because they ride broadband connections, and don't require special access connections, SD-WAN services -- such as those recently launched by Comcast Corp. (Nasdaq: CMCSA, CMCSK) and Charter Communications Inc. s Spectrum Business unit -- are an easier way to reach sites outside a regional footprint, the Heavy Reading analyst said. That means cable would have an easier time offering an enterprise reach to its many remote sites, helping to overcome the lack of a national footprint. (See Cable Eyes SD-WAN to Boost Business Services, Comcast Packs More Powerful SD-WAN Punch and Charter Taps SD-WAN to Boost Off-Net Reach.)
"Surveys show SD-WAN is one of the most popular enterprise services, so this could be a real game-changer for cable," Breznick said. "Then the question becomes, will cable companies start competing against each other for business? Comcast, Charter and Altice can all now compete for business in New York, will they compete against each other or will they continue to team up and cooperate?"
In the past, cablecos have worked at winning market share from telecom operators and explored how to do that together. There was even once discussion of cable cooperating in a national footprint to woo big businesses. (See Top MSOs Team for National Enterprise Push.)
As SD-WANs blur regional lines, however, "I don't see how they cannot compete against each other," Breznick said.
Cable business revenues will clear $16 billion this year, up from about $14 billion last year, and cable operators are still effectively courting both small (under 20 employees) and midsized (up to 100 employees) businesses, he noted. Small-business sales are still growing at 24% a year, and are approaching the $10 billion mark, according to the SNL Kagan data. Midsized-business sales are growing slower, at a 12% CAGR, and hit $2.2 billion last year, only slightly above enterprise sales, according to the same data.
Cable's strength in the very small business market is due in part to its direct sales strategy, which enables the companies to gain high marks for service and support, Breznick said. By contrast, many enterprise sales are done through third parties such as master agents, and cable continues to be hurt by a reputation for weaker performance and reliability, as well as indifferent customer service.
"We still see those attitudes reflected in J.D. Power reports and other studies," Breznick said.
That may be changing somewhat, with the rise of cable Ethernet services. Vertical Systems Group tracking shows a dramatic shift in the Carrier Ethernet market as incumbent carriers have lost their market dominance, and cable MSOs have risen to an aggregate 27% of the market, just below competitive carriers, whose market share is on the decline. Some of the latter's slippage is due to acquisition by incumbents, he said.
Cable operators are now starting to leverage DOCSIS 3.1 technology to offer more bandwidth and potentially a wider range of advanced services to commercial customers, Breznick said, and that will likely help grow its revenues significantly as well. One surprising hot service area is hosted voice, as more businesses look to connect an increasingly mobile workforce without taking on the complexity themselves.
— Carol Wilson, Editor-at-Large, Light Reading
Like what we have to say? Click here to sign up to our daily newsletter
Cable Next-Gen Technologies & Strategies – Making cable faster, broader, deeper, better
If you want to know where the cable tech space is heading, we've got you covered. Join the biggest names in the industry in Denver, CO on March 14 & 15 for the latest edition of Light Reading's Cable Next-Gen Technologies & Strategies conference.
Back for a record 16th consecutive year, Cable Next-Gen is the premier independent conference covering the broadband technology market. This year's edition will tackle all the top tech topics, including 10G, DOCSIS 4.0, Distributed Access Architecture, next-gen PON, fixed wireless access, network virtualization, the Digital Divide and more
Get your free operator pass here.
PARTNER PERSPECTIVES
- content from our sponsors