In the first article in this four-part series, we reviewed cable's business services success in the small business market, and the drivers underlying the industry's more recent push into the mid-market and enterprise spaces. Now, in this second part, we focus on the profile of customers in the mid-market and enterprise segments, a vertical-based sub-segmentation approach and high-level customer needs that cable operators must consider to boost their market share.

First, we review the customer profile of larger business customers and how this impacts various areas, including customer complexity, sales and marketing, and specialization.

1. Greater complexity
Although mid-market and enterprise businesses (20 or more employees) account for only about 12% of US firms, they account for nearly one third of business locations. Because telecommunications complexity increases with more employees and locations, there is an opportunity for greater revenue through the specialization of solutions.

2. Different sales and marketing methods
Although there are fewer decision-makers to target in the mid-market and enterprise segments, the sales and marketing strategy differs significantly from the "pull/demand" approach used in the small business space. Rather than utilizing small business sales channels like telesales, online and retail, service providers employ direct sales, value-added resellers (VARs) and system integrators to reach mid-market and enterprise decision-makers. For marketing, tactics that support sales efforts such as events, webinars, content and trade publications replace the direct response and traditional media more prevalent for small firms.
3. More specialization
Third, while there are fewer total decision-makers and firms to reach, telecom needs become more specialized and unique as business size increases. Successful enterprise telecom providers have developed offerings, solutions and services that address unique customer needs at the vertical industry level.
Although customer needs are constantly evolving with technology and market dynamics, many providers use vertical segmentation to guide marketing, sales and service. Research and data provide insights into customer needs and the buying process by vertical industry. Where there are significant distinctions between verticals, a service provider may justify investment in vertical-specific sales, marketing and custom product solutions.
The table below shows a common MSO (and telco) approach to segmentation and special considerations within segments. Note that carrier & wholesale is a significant and growing area of opportunity for cable operators, with varying approaches to both carrier and mobile network operator (MNO) audiences.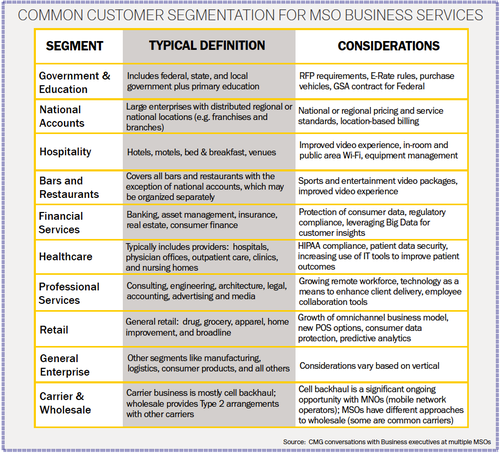 Dedicating sales teams to verticals is the ultimate expression of commitment from a service provider. Establishing a dedicated sales team requires hard investments to fund the team and its management chain, as well as the soft costs of recruiting sales professionals with the experience, expertise and customer networks to deliver new business. Although many telcos have dedicated sales teams for a number of vertical industries, cable operators are less likely to have taken this step (with the exception of the E-Rate and government segments).
How do mid-market and enterprise needs differ from small business? This question has been the subject of much cable and telco research. As the chart below suggests, mid-market and enterprise organizations differ significantly from small business in terms of needs, products and solutions, decision makers and influencers, and the buying journey.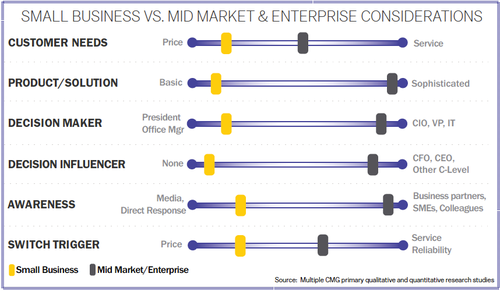 These distinctions in customer needs, decision-makers and influencers, and the buying journey are critically important to cable operators. They provide a blueprint for the development of MSO capabilities across dimensions, ranging from organization design to products and solutions to marketing and sales. Having a better understanding of these fertile customer segments will provide MSOs with the opportunity to learn from existing approaches to better address the most compelling pain points and opportunities.
The next article in this series will define the unique needs and buying journeys of mid-market and enterprise commercial customers. We will cover each consideration and advise successful approaches to address this market opportunity. (See How Cable Means Business About Business.)
— Mark Schweitzer, Partner, CMG Partners