NEW YORK -- The Future of Cable Business Services -- Business services are still a critical growth engine for US cable operators, but the challenge ahead is to seek out and discover new services and opportunities that will keep that engine revved.

Still, commercial services focused on small and midsized businesses and, increasingly to the enterprise level, are pulling their weight as cable operators continue to focus on areas that can offset the ongoing erosion of pay-TV subscribers.

The US cable industry is poised to pull down $18 billion in business services revenue in 2018, and possibly reach $20 billion toward the end of 2019, Alan Breznick, cable/video practice leader at Light Reading, said here Thursday during his opening remarks.

To put that in some perspective, US cable was generating in the range of $2 billion to $3 billion in 2007, the first year that Light Reading hosted this event, drawing cable operators, key suppliers and, yes, some very local business owners. (See Cable Means Business and 'Ugly George'.)

Fast-forward to today, and Comcast Business alone is on an annual run rate of $7.2 billion, with Charter Communications Inc. (Spectrum Enterprise), at about $6.2 billion, not that far behind.

Notably, Comcast Business been able to maintain double-digit growth rates, while others have dropped into the single digits.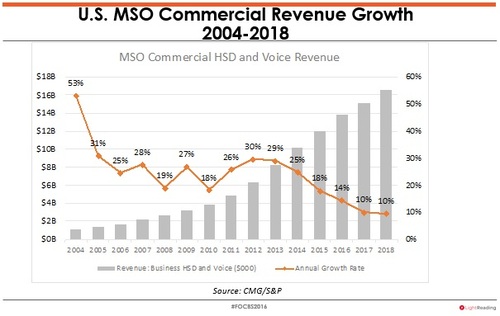 Breznick acknowledged that the rate of growth has slowed and will be tough to maintain simply given the size of that revenue figure. However, there are indicators that the SMB portion of that business is topping out. "There might not be as much runway anymore," Breznick said. (See Have Cable Business Services Topped Out? )
That has caused some MSOs to go upmarket and tackle the enterprise market, a sector that presents a challenge because those larger companies tend to want deals that provide service that are both inside and outside the cable operator's footprint. And, on occasion, they need access on a global scale.
Cable operators have begun to meet that challenge through partnerships. In 2015, for example, Comcast Business launched a new unit focused on Fortune 1000 companies, aided by network access deals with other MSOs.
While those deals are lucrative and can put another dent into the hull of major telcos, they are also harder to hand, given their more involved processes and lengthier sales cycles.
Breznick noted that MSOs are also trying to keep the revenue fire stoked by entering a broader range of verticals, including education, government, hospitality, healthcare and financial services. Cox Communications, for example, has been betting on casinos in Las Vegas, while Mediacom Communications Corp. explores opportunities in "big agra."
Cable operators are also gaining some ground in the enterprise IoT sector and have launched new businesses focused on it, including Comcast (machineQ) and Cox (Cox2M). (See Comcast Opens Up on Smart Cities & machineQ and Cox Joins IoT Race With Cox2M.)
Here at the event, John Jason Brzozowski, head of engineering at machineQ and a Comcast fellow, will present an overview and update on that enterprise IoT initiative.
Light Reading will have much more from today's packed agenda.
— Jeff Baumgartner, Senior Editor, Light Reading