NEW YORK -- Future of Cable Business Services -- The major M&A activity of the past year has reshaped the cable business services landscape, creating two giant companies likely to battle it out as national business service players, even as the overall pace of growth for cable commercial services begins to slow, Light Reading Cable/Video Practice Leader Alan Breznick said here today.
The latter reality is more a factor of the size of cable's current business services base than any real slowing down of expansion, Breznick noted at the conference here, which he chairs. The pace of growth is now around 12-17%, as opposed to 20-25% previously. But that's largely because cable has exceeded $14 billion in overall business revenues, or about 10% of the overall US commercial services market.
"These companies are still adding hundreds of millions of dollars in revenue, but that now translates to a slower growth rate," Breznick noted.
At the same time, cable rivals have also gained scale that could challenge cable's commercial ambitions in a new way, Breznick said. CenturyLink Inc. (NYSE: CTL)'s pending acquisition of national fiber operator Level 3 Communications Inc. (NYSE: LVLT) tops the list. But Verizon Communications Inc. (NYSE: VZ)'s acquisition of national fiber provider XO Communications Inc. , Frontier Communications Corp. (NYSE: FTR)'s takeover of three large Verizon local properties and the Windstream Communications Inc. (Nasdaq: WIN) deal for EarthLink Inc. (Nasdaq: ELNK), which had focused on retail locations, all have the potential to challenge cable by giving telecom operators greater reach and more national connections.
The M&A activity obviously elevated Charter Communications Inc. , through its purchase of Time Warner Cable and Bright House Cable, to a close second in business service revenues to perennial leader Comcast Business . It also created a new player in Altice , which, with its twin takeovers of Cablevision Systems and Suddenlink Communications, is now in a solid fourth place after privately held Cox Communications Inc. .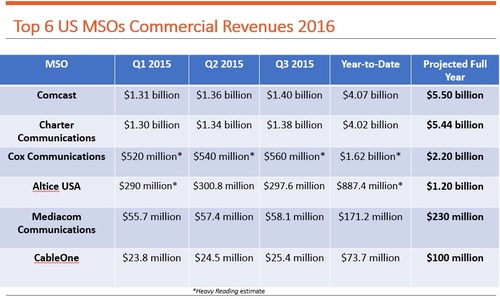 And while it is a distant fifth at a mere $230 million, Mediacom Communications Corp. now moves into the top five cable players in terms of revenues.
Breznick is expecting to see Comcast pursue an international services strategy -- taking on the likes of AT&T and Verizon -- which, by necessity means the cable giant will have to also take on Charter in its home turf markets of New York and Los Angeles.
"They will be pursuing some of the same customers," he commented. "Comcast wants to become the first international cable business player, and they are trying to work out deals with others in the world so they can have, at least, international services in North America and Europe. The new Charter will go head-to-head with Comcast to become the king of cable commercial." (See Charter Challenges Comcast's Commercial Rule.)
All these business ambitions don't mean cable lacks for challenges. As Breznick noted in his presentation this morning, cable must tackle its reputation for poor service and reliability -- by far its biggest challenge -- and overcome the lack of direct fiber access to many businesses, as well.
— Carol Wilson, Editor-at-Large, Light Reading