In the first three articles in this series, we reviewed the importance of cable operators winning share in the mid-market and enterprise segments and the unique profile and needs of these customers. In this fourth and final article, we'll turn our attention to the large customer decision-maker, the buying journey and competitive switching triggers. Finally, we'll put the MSO up-market evolution into the context of small business success, along with the larger implications of commercial success for overall cable revenue growth.
Revisiting the illustration below provides context for the significant differences between enterprise and mid-market customers on the one hand and small businesses on the other. The following is a review of considerations for enterprise and mid-market decision-makers and influencers, plus the key factors that influence the buying journey and telecommunications switching triggers.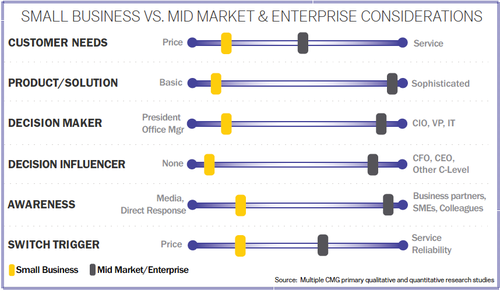 As cable operators evaluate their strategies for moving up-market with commercial services, they must understand the needs of their new audience. Unlike residential or small business customers, mid-market and enterprise firms have specialized concerns and requirements for products and services. This article will cover the important considerations for these up-market segments, such as decision makers and influencers, the buying journey and likely triggers for switching providers.
1. Decision makers and influencers
Unlike small businesses, which tend to have a defined decision-making process run by an individual decision-maker, large corporations have distributed decision-making led by professional IT teams with the involvement of multiple C-level influencers. Telecom teams within IT departments may identify and vet a starting list of service providers, typically driven by the need for expansion, increased bandwidth and network capacity, or system upgrades (e.g., a new voice system).
From there, formal purchase processes like RFI/RFPs refine a list of finalists who are presented to senior leadership with a recommendation for a final decision. CFOs, CEOs and executives unique titles like Chief Medical Officers weigh in on final decisions.
The implication for cable operators is that selling extends beyond the Director or VP of IT who sales teams usually pitch directly. Reaching influencers through event forums and driving influencer awareness and consideration through content, analyst coverage and business partners is critical. It's also important to convey the benefits of service in alignment to each executive's interests and hot buttons.
2. The buying journey (awareness, consideration and purchase decision)
Compared to small businesses, mid-market and enterprise decision-makers and influencers are more likely to rely on sources other than media and direct response along their buying journey. At the awareness level, business partners like hardware vendors and system integrators, along with industry associations, colleagues, and subject matter experts, are prominent. As the buying journey moves to the consideration phase, referrals are critical to a service provider's chances to be finalists in the purchase decision. Finally, factors such as pricing, service reliability, customer service and service delivery are imperative to win the business.
Integrated and harmonized tactics -- including events, sponsorships, search, content, online and trade publications -- provide additional "air cover" to awareness and consideration. Similarly, sales enablement tools and support become critical to capture and engage decision makers. The implication is that MSOs' familiar methods for reaching small business prospects, such as traditional media and direct response, have limited impact with the large business segment. Therefore, developing new marketing and sales capabilities is critical to winning mid-market and enterprise market share.
3. Switching triggers
For the up-market business segment, triggers to switch providers and the keys to provider satisfaction are likely to be based on the cost of service, service reliability, business expansion needs and a change in IT leadership. In addition, service provider reviews occur frequently, with half or more evaluating providers on a monthly to quarterly basis. This review frequency is likely a function of dedicated focus of telecommunications teams within large customers' IT departments.
At the same time, most customers prefer not to make a change in service providers. Making such a change in a large organization is full of deployment complexities, new processes and procedures, and potentially new systems requiring additional staffing and training.
Large-customer switching triggers and satisfaction with current providers open up opportunities for cable operators, but these opportunities require diligence and prospect intelligence that involves a unique approach to acquire. Understanding these customer triggers is important, but developing the capabilities to identify and act on them often requires specialized competitive intelligence working hand in hand with sales and marketing.
In a slight diversion from the up-market segments, we don't want to lose sight of the fact that while those segments represent opportunity for business expansion, the sweet spot will continue to be small business, including small and home offices (SOHO). There are three key reasons for its continued importance:
Although cable penetration is relatively high, there remains a significant opportunity to grow market share further, mostly at the expense of the telcos.

Cable operators are aligned optimally with the segment from a marketing, sales and product perspective.

Based on the fixed-cost structure of selling and serving small business, the scale opportunity in this segment can produce higher margins than up-market segments.
The combination of cable's expansion up-market with its traditional and continued success in small business has fueled significant revenue growth. As a result, the commercial segment has offset slowing overall growth in the residential market to keep pushing incremental revenue higher among MSOs. Adding commercial segment revenues to the residential segment puts the most recent five years on nearly the same revenue growth plane as the mid-2000s, as illustrated in the chart below. In fact, due to the strength of commercial services revenue growth, the cable industry experienced its highest incremental revenue growth in 2014 and 2015 since 2008.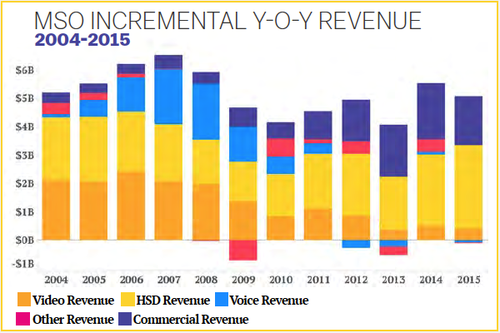 To maintain this growth trajectory for commercial services revenue, cable operators must keep moving up-market, where there's more greenfield opportunity for subscriber growth and higher revenue. However, larger customers tend to be less likely to switch from telco providers who have more experience serving their needs. Because of this, MSOs must focus on enhancing their capabilities in the areas of product, service and sales and marketing, while at the same time still actively pursuing the small business segment.
— Mark Schweitzer, Partner, CMG Partners