ZyXEL Unlocks Docsis 3.0 Voice Gateway
ZyXEL Communications Corp.
has entered the Docsis 3.0 fray with an embedded multimedia terminal adapter (E-MTA) that combines a baseline wideband modem with VoIP support and home networking features.
The P2910, just certified by
CableLabs
, is based on a
Texas Instruments Inc.
(NYSE: TXN) Puma 5 chipset that can bond up to four downstream and four upstream channels, giving it the ability to produce downstream bursts of up to 160 Mbit/s. ZyXEL's E-MTA also packs in two VoIP lines, a four-port Gigabit Ethernet switch, and 802.11n WiFI.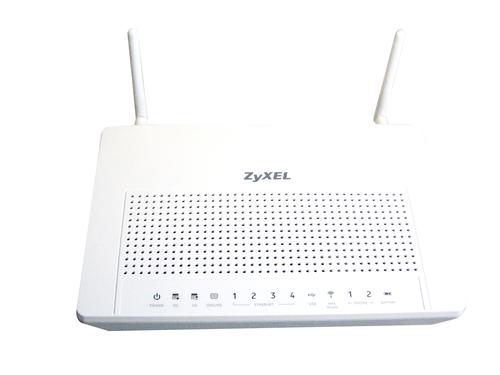 TI has a Docsis 3.0 chipset capable of bonding eight channels, but only one of its modem partners,
SMC Networks Inc.
, has publicly acknowledged such an implementation. Several other vendors recently obtained CableLabs certification for modems and E-MTAs that use
Broadcom Corp.
(Nasdaq: BRCM) chips bonding eight downstream channels. (See
TI Flexes Docsis 3.0 Muscle
,
SMC Shows 320-Meg Cable Modem
, and
Broadcom Breaks Docsis 3.0 Barrier
.)
ZyXEL thinks a 4x4 Docsis 3.0 modem is the right product to start out with, but "an eight-channel bonded [modem] is something we're definitely looking at," says David Thompson, ZyXEL's product marketing director.
ZyXEL primarily sells Docsis gear directly to MSOs, but it does hawk equipment at sites such as Buy.com and
Amazon.com Inc.
(Nasdaq: AMZN).
"We may take the [wideband] modem through those retail channels, but our initial intent is to sell it to MSOs in North America," Thompson says. Roughly 80 percent of ZyXEL's Docsis modem sales come by way of U.S. MSOs.
ZyXEL isn't disclosing the P-2910's price, nor is it saying which MSOs are buying it. Based on the company's history, the likeliest candidates include
Charter Communications Inc.
and
Time Warner Cable Inc.
(NYSE: TWC). TWC has yet to deploy wideband services, but has identified New York City as one of the markets that will get them first. Charter picked its hometown of St. Louis for its initial launch of Docsis 3.0 service. (See
Charter Takes On U-verse
.)
ZyXEL is not saying how many Docsis modems it's shipped so far. The Taiwan-based company surpassed $500 million in sales last year but doesn't specify how much is from Docsis equipment sales.
Cable "is a small but growing segment" for ZyXEL, Thompson says. "We've upped our commitment to providing cable products in North America." About 90 ZyXEL employees are dedicated to that market today.
But ZyXEL is a long way from making a big dent in the competitive and mature Docsis device market.
According to the latest "
Cable Tracker
" data from
Heavy Reading
,
Motorola Inc.
(NYSE: MOT) held the Docsis device market share lead with 35.3 percent at the end of the third quarter of 2008, followed by
Arris Group Inc.
(Nasdaq: ARRS) (18.1%),
Cisco Systems Inc.
(Nasdaq: CSCO) (15.3%),
Ubee Interactive
(13.1%), and
Thomson S.A.
(NYSE: TMS; Euronext Paris: 18453) (10.8%). The rest of the market, which includes ZyXEL, held a combined 7.4 percent.
— Jeff Baumgartner, Site Editor,
Cable Digital News
PARTNER PERSPECTIVES
- content from our sponsors