ZyXEL Boosts IPTV Home Gateways

Comment (1)
ZyXEL Communications Corp.
aims to relieve a potential home-side chokepoint with the debut today of a bonded ADSL2+ gateway with support for 802.11n.
The idea is to offer a gateway that supports similar throughputs whether that connection is being accessed on the home's wired or wireless networks -- an area where 802.11g has been deficient, says ZyXEL product marketing director David Thompson.
The P663HN also features a four-port switch and a protective firewall. ZyXEL has traveled a similar feature path with its recently introduced
Docsis 3.0
-based voice modem/gateway. (See
ZyXEL Melds Gateway
and
ZyXEL Unlocks Docsis 3.0 Voice Gateway
.)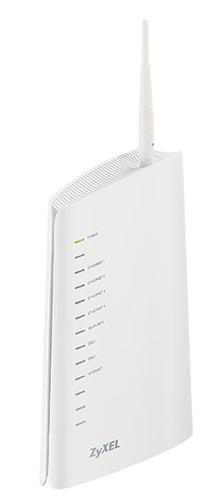 Targeted at copper-based IPTV deployments, bonded ADSL2+ is designed to double the speeds of its unbonded cousin, offering a logical link of 48 Mbit/s downstream by 2 Mbit/s upstream. However, real-world downstream speeds tend to be in the 20- to 30-Mbit/s range at a distance of 10,000 to 12,000 feet from the central office.
There are bonded ADSL2+ gateways on the market with 802.11g built in, but users "are hard pressed" to get speeds anywhere near the theoretical max of 54 Mbit/s, Thompson contends, noting that 802.11g is better suited for single-channel ADSL2+ gateways.
Field deployments will show whether 802.11n and bonded ADSL2+ are a good match, but ZyXEL says its "real world tests" have shown 80 Mbit/s of same-room throughput, 60 Mbit/s from one room away, and as much as 40 Mbit/s from a two-room distance.
The bigger question is: Who will be the best candidate for ZyXEL's new gateway?
ZyXEL's customers are Tier 2 and Tier 3 telcos and independent operating companies (IOCs), and Thompson says some trials are underway with the new gateway.
How about the big telcos?
Verizon Communications Inc.
(NYSE: VZ) is out because it's using fiber for its IPTV heavy lifting. And
AT&T Inc.
(NYSE: T) is using VDSL for U-verse.
However, the addition of bonded ADSL2+ could extend the reach of AT&T's network, providing enough downstream capacity for two hi-def and two standard-def video streams.
AT&T does have a big ADSL2+ footprint (those DSLAMs could do bonding with a firmware upgrade, Thompson says) and has conducted some tests involving pair bonding, but ZyXEL's involvement with the telco from a bonded ADSL2+ standpoint for video is uncertain at best, and wishful thinking at least. AT&T only says that it continues to use VDSL for U-verse.
Still, a recent
Light Reading Insider report
-- "Can VDSL2 Turn Copper Into Stimulus Package Gold?" -- indicates that dualmode equipment could aid VDSL2 deployments because ADSL2+ "becomes equivalent or superior at distances above approximately 5,000 feet."
For that reason, "fallback" -- the ability to drop to ADSL2+ speeds when the link cannot support VDSL2 -- is part of the VDSL2 standard. But while fallback "is an important requirement" for equipment supporting central offices and nodes, "the argument is not as clear with CPE [customer premises equipment]," the report adds.
ZyXEL claims to have the only gateway on the market that pairs bonded ADSL2+ with 802.11n. We've asked some of ZyXEL's competitors in this sector, including
Cisco Systems Inc.
(Nasdaq: CSCO),
Comtrend Corp.
, and
Zhone Technologies Inc.
(Nasdaq: ZHNE), if they have similar products on their roadmaps.
— Jeff Baumgartner, Site Editor,
Cable Digital News
---
Interested in learning more on this topic? Then come to
TelcoTV 2009
, the telecom industry's premier event for the exploration of a comprehensive entertainment convergence strategy, to be staged in
Orlando, Fla.
,
November 10-12
. For more information, or to register, click
here
.
---
EDUCATIONAL RESOURCES

PARTNER PERSPECTIVES
- content from our sponsors
GUEST PERSPECTIVES
- curated contributions