Zhone Technologies Inc. (Nasdaq: ZHNE) paid about $7 million for the assets of Gluon Networks, which is more than many industry observers anticipated.

The Zhone-Gluon transaction, announced February 3, was first reported by Light Reading on January 29 (see Zhone to Buy Gluon Scraps). The deal gives Zhone Gluon's CLX switching system, a Class 5 replacement switch that helps carriers begin to migrate circuit-switched gear to a packet-based network. Gluon also markets a signaling gateway interface for hooking legacy telephone networks to VOIP networks (see Poll Points to Rising VOIP Revenues).

The deal seems pretty risky, especially for a company that has burned through more than $500 million buying startups -- and has little to show for it. But Zhone is sticking to its guns, insisting the deal will be a winner by the end of 2005.

The company's president and CEO Mory Ejabat says Zhone's purchase of Gluon's guts should likely account for between 10 percent and 15 percent of Zhone's yearly revenues next year. The Gluon products, now in trials with carriers, will generate "some revenues, but nothing major" in 2004, Ejabat said during Zhone's quarterly conference call on Tuesday.

Zhone brought in about $83 million in revenues during 2003, according to its SEC filings. It hasn't given a forecast for 2004, but even if revenues stay flat, Ejabat's comments hint that Gluon's gear will mean something between $8.3 million and $12.5 million in revenues.

The Tellium acquisition gave Zhone more cash, access to the public markets, and a yet-to-be discussed metro switching system.

Shortly after the Tellium buy closed, Zhone nuked the staff and closed Tellium's old headquarters (see Zhone Closes NJ Center). It also rewarded Tellium's executives handsomely for their failure to dominate the switching market (see Exec Payoffs Dog Zhone/Tellium Merger and Zhone Forgives Exec Loans). A good bit of Tellium's physical assets – network equipment, servers, test and measurement gear -- are being auctioned off later this month by Biditup, an industrial liquidator.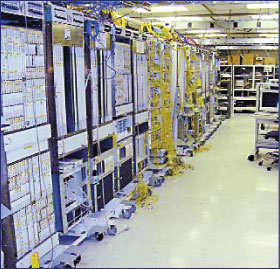 Gluon's gear, however, is set to become a big part of Zhone's product line. "It fits right into our channel," Ejabat said on the conference call. "The customers we have are very attracted to this product."

Zhone expects its first-quarter 2004 revenues to increase more than 20 percent over its first-quarter 2003 revenues, which were $17.1 million.

Meanwhile, the company's revenues slipped slightly during the fourth quarter, but its losses decreased dramatically. Zhone brought in revenues of $23.3 million during the fourth quarter of 2003, compared to $25 million during the year-ago quarter. It recorded a net loss of $6.4 milion for the quarter, compared to its net loss of $62.7 million for the fourth quarter of 2002.

The company says its one-time items during the quarter included an unusually large excess inventory charge of $4.7 million; an income tax benefit of $4.9 million; and about $2.4 million of operating expenses related to winding down Tellium's business. The company ended 2003 with $98.3 million in cash and investments.

Zhone shares were down $0.64 (10.44%) to $5.49 in trading on Wednesday.

— Phil Harvey, News Editor, Light Reading