Announcements this week from leading carriers highlight the growing popularity of wavelength services, in which optical wavelengths are packaged as bandwidth products. But the jury's still out on their potential impact, and service providers are keeping their hopes to themselves.

Global Crossing Ltd. (NYSE: GX) announced this morning that it's launched a worldwide wave service, one that allows carrier customers to tap 2.5- or 10-Gbit/s connectivity among "more than 90 cities in Asia, North America, and Europe" (see Global Crossing Crosses Globe).

Separately, Level 3 Communications Inc. (Nasdaq: LVLT), which also claims international wave services, says it's sealed a pact with America Online Inc., the Internet division of AOL Time Warner Inc. (NYSE: AOL), by which AOL will buy wavelengths in North America, private lines between North America and Europe, and colocation services in six U.S. cities (see Level 3 Wins AOL Contract).

Neither Global Crossing nor Level 3 would provide many details of the announcements at press time. Information was particularly skimpy regarding the Level 3/AOL deal, about which AOL hasn't issued a release at all.

"We prefer to let the services speak for themselves," says America Online spokesman David Theis.

So far, they're mute. Carriers apparently aren't willing to tip their hands in this most competitive -- and distressed -- of markets. "They hate to provide revenue figures of any kind, but especially for new services where adoption is only beginning," says Nick Maynard, senior analyst at The Yankee Group. If carriers can't show more than a handful of customers for wave services, Maynard says, they'd rather say as little as possible.

Wavelength services, in which service providers lease wavelengths of a fiber strand owned by another carrier, offer a money-saving alternative to Sonet and private-line services. They represent a market forecast to grow an order of magnitude over the next five years, reaching a high of nearly $8 billion by 2005, according to the Yankee Group.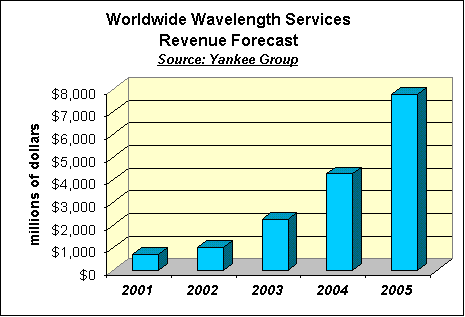 Scott Clavenna, president of PointEast Research LLC and director of research at Light Reading, says the savings from wave services are compelling enough to win converts, despite the fact that they don't yet offer the protection schemes or net management of Sonet (see On the Crest of a Wave).

"Wave services help service providers get a bigger bang from their shrinking capex budgets – not only because they're less expensive than Sonet connections, but also because they can be provisioned much more rapidly," Clavenna maintains.

Analysts are careful to point out that wave services won't be a panacea for the current capex downturn. "We've had confirmation of our forecasts, and some even expect growth to be brisker than estimate," Maynard says. "But wavelength services [alone] aren't going to reinvigorate the market."

Still, investors are clearly thinking waves will help carriers whose outlooks have been rickety. In trading today, shares of Level 3 shot up 0.84 (14.74%) to close at 6.54; and shares of Global Crossing rose 0.04 (2.37%) to 1.73.

Maynard says long-haul wave services, such as those offered by Level 3 and Global Crossing, will account for the lion's share of revenues over the next few years. Other long-haul players include America's Fiber Network (AFN), Broadwing Communications Inc. (NYSE: BRW), Genuity Inc. (Nasdaq: GENU), and Williams Communications Group (NYSE: WCG). Qwest Communications International Corp. (NYSE: Q) has pledged offerings too.

Metro carriers with wavelength services are set for growth rates comparable to those for long-haul, albeit on a smaller scale. Providers include Sigma Networks Inc., Sphera Optical Networks Inc., Telseon Inc., and XO Communications Inc. (Nasdaq: XOXO).

— Mary Jander, Senior Editor, Light Reading
http://www.lightreading.com