12:30 PM -- LOS ANGELES -- The Cable Show -- Like many tradeshows, most of the products and apps on the floor here weren't mind-blowingly new. The vast majority of what was front and center was comprised of tweaks, updates, and enhancements to many products we've seen before.

The Comcast Corp. (Nasdaq: CMCSA, CMCSK) "Xfinity Remote" seemed to get the most buzz, in large part because it was being shown off on Apple Inc. (Nasdaq: AAPL)'s iPad, so the cool factor was automatically built-in, although folks like our own Craig Matsumoto aren't all that crazy about the idea. (See To Xfinity... & Beyond!)

There were many folks at the show last week that likewise weren't all that wild about the emergence of 3DTV, wondering if it would come close to living up to the early hype. But it was a hot topic, nonetheless, in the form of products and deals, including Comcast's agreement to carry the new ESPN part-time 3D channel. (See Comcast Plays Ball With ESPN 3D .)

But one big trend on the floor was the development (or at least some demos) of interactive guide and TV navigation systems that account for 3D. Motorola Inc. (NYSE: MOT) had a cool demo; Nagravision SA served up a nice piece of eye-candy with its 3D guide; and the Comcast Media Center (CMC) 's 3D-optimized Enhanced TV Binary Interchange Format (EBIF) demo showed how interactive TV can also play an integral part in the 3DTV experience. (See Comcast Unit Puts EBIF in 3D.)

All of those looked pretty good, perhaps better than I expected going in, but the most dazzling demo I saw came by way of Advanced Digital Broadcast (ADB) and the 3D treatment applied to its HD-fueled "Carbo" user interface, which is already deployed with some European operators.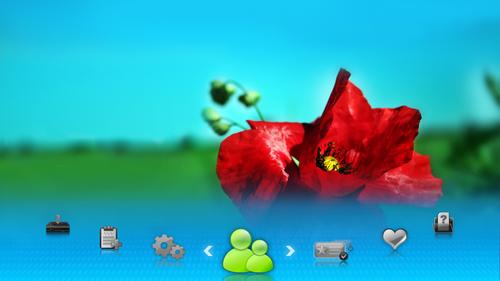 I viewed the demo from about six feet away from the TV screen using passive specs, but I was amazed at how the layers of the guide literally popped off the screen, with brilliant colors that I'd expected to be somewhat washed out in 3D format.

Some of the fancier elements of the demo were reminiscent of a scene from Minority Report in the way the interface jumped out in front of my face, making me want to reach out instinctively and manipulate and navigate the guide with my fingertips.

On top of that, the on-screen text was some of the clearest I've ever seen in 3D and, generally speaking, didn't have the same novelty feel of some of the other 3DTV products and demos I have come across so far.

I'm still on the fence on this whole 3DTV thing, and I don't think there's enough there to justify a 3DTV purchase yet, but the ADB demo did a tremendous job showing off the potential of the 3DTV platform and how navigation could be an immersive part of the experience, rather than a mere "bolt-on."

For a more complete rundown of what was new on view at the show, see

The Cable Show 2010:

New Product Recap.

— Jeff Baumgartner, Site Editor, Light Reading Cable