10:30 AM -- Rovi Corp. has tailored a version of its "TotalGuide" for service providers, a move that comes about five months after it announced the platform at the Consumer Electronics Show and targeted it at broadband-connected set-tops and digital TVs coming by way of the retail-focused, consumer electronics industry. But now cable can use a version of TotalGuide, too. (See Rovi Brings TotalGuide to Cable.)

One claim of TotalGuide and its use of programming metadata is its ability to search, browse, and recommend titles across cable's linear TV and on-demand lineups, as well as from what the consumer has recorded to a set-top DVR. The guide can also pull in video results from the Web, if that's something the MSO happens to offer access to. As recommendations go, TotalGuide features help based on user preferences as well as shows recommended by the pros.

Although the idea of searching across video service types is relatively new to the cable set-top world, the idea is growing into a familiar one -- it's among the features that grace a new tru2way guide developed by Cox Communications Inc. that's set to debut in its Orange County, Calif., system in the second quarter of 2010. (See Cox Guides Tru2way Forward and Cox to Offer Tru2way Guide to Others.)

Rovi VP of product marketing David Jordan says TotalGuide is for advanced set-tops and can be made to work on boxes outfitted with tru2way.

The guide itself operates using two primary elements: a Web-based backend in the proverbial cloud that pushes data and updates to the MSO and then on to the guide; and the user interface itself.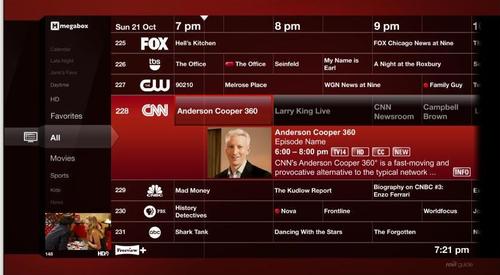 Although TotalGuide for service providers is making its debut at this week's cable show in Los Angeles, when TotalGuide might start showing up on cable systems is another matter.

Rovi's best guestimate puts initial rollouts sometime in the early part of 2011. That's about the time it thinks TotalGuide will also start showing up in retail products, too.

Also, in case you are wondering, Comcast Corp. (Nasdaq: CMCSA, CMCSK) doesn't have rights to TotalGuide. Comcast still has access to Rovi's key patents and intellectual property under a new licensing deal put in place after the MSO and Rovi dissolved their GuideWorks LLC joint venture earlier this year. But the right to hawk TotalGuide isn't part of what Comcast came away with. (See Rovi Exits Comcast Guide JV.)

— Jeff Baumgartner, Site Editor, Light Reading Cable