Motorola Mobility LLC is beefing up the capabilities of Medios, its multi-screen service management platform, with a new social component that can work on tablets, smartphones and other Internet-connected companion devices outfitted with HTML5-capable browsers.

Although integration with set-tops is part of the long-term planning, the initial version of Moto's cloud-based "SocialTV Companion Service" targets secondary screens.

And it's targeted to service providers, with the intention of having them and their programming partners develop custom portals that tap into social networks such as Twitter Inc. and Facebook and support interactive apps that synch up with or supplement what viewers are watching on TV. The latter could include polls, YouTube clips, and even ads that let viewers purchase DVDs and other merchandise.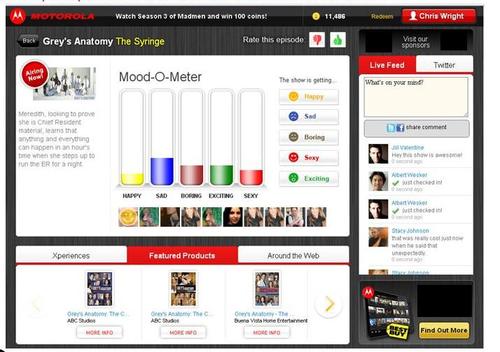 The module also includes a social loyalty element that will award points when viewers use the system to rate shows, post comments, play show-specific games or even watch ads. Those points could be used toward "badges" or product discounts. Moto expects to start off with discounts for its own products, but the aim is to expand it to third-party merchandise, says Chris Wright, who handles software product marketing and sales support for the company's Converged Experiences Software Group.

Wright says Moto's in discussion with service providers and programmers about the module. So far, Verizon Communications Inc. (NYSE: VZ) is the only service provider to disclose its use of Medios, tapping it for Flex View, a VoD feature that lets customers purchase or rent movies and watch them on PCs and compatible portable devices. So consider FiOS TV one of the leading candidates for the new module.

Why this matters
Service providers are keen to enhance their TV services with social elements, but most of the initial implementations involve extensive integrations with set-tops. By targeting HTML5 devices (like Moto's own Xoom tablet), Moto and its partners can use a speedier Web service platform. Moto believes the implementation cycle will be about eight weeks. (See Xoom's Race for Second Place.)

Additionally, enlisting companion devices will ensure the apps aren't creating an annoyance when more than one person is watching TV. The system also lets multiple people in the same household sign on and use the apps on their individual phones or tablets.

But service providers are looking for such systems to supply a revenue-generator, which is where the advertising and direct purchasing pieces fit in. If Moto's successful in getting some cable deployments for Medios, those types of apps could create some direct competition for Canoe Ventures LLC , the cross-MSO advanced ad joint venture. Canoe is starting off with a request-for-information (RFI) application targeted to set-tops using Enhanced TV Binary Interchange Format (EBIF).

For more
For more on Medios and how service providers are adopting systems that pipe in social networking and interactive apps, check out:



— Jeff Baumgartner, Site Editor, Light Reading Cable