6:00 AM -- If you're a cable operator and like what you are seeing so far from Cox Communications Inc. 's home-grown tru2way-based guide, it can be yours, too, for the low, low price of… well, we're not really sure yet. (See Cox Guides Tru2way Forward.)

But we do know that Cox, which has filed some intellectual property patents linked to its work on the guide, does intend to offer it to other operators.

"That's an opportunity we're interested in exploring," Cox executive director of video product development Lisa Pickelsimer tells Light Reading Cable.

Although Cox designed and owns the rights to the guide, called "Trio," it won't be doing any of the direct selling. That task will fall to NDS Ltd. , which headed up the implementation of the guide and has rights to sell it to others and to handle similar integrations.

Trio will become a product that NDS can hawk to US cable operators, confirms Steve Tranter, VP of broadband and interactive for NDS.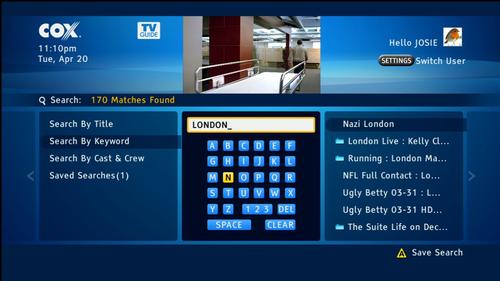 But there's still no telling when such a sales effort will begin. Cox is just getting ready to get Trio-powered boxes deployed, starting with its Orange County, Calif., properties in the second quarter. It hopes to expand the offering to all its systems by year's end.

But when the sales light goes green for NDS, Trio could offer some IPG competition to Rovi Corp. and perhaps GuideWorks LLC , a now wholly owned subsidiary of Comcast Corp. (Nasdaq: CMCSA, CMCSK), as MSOs start to migrate to the tru2way platform. (See Rovi Exits Comcast Guide JV.)

— Jeff Baumgartner, Site Editor, Light Reading Cable