Cox Communications Inc. has taken the wraps off a tricked-out tru2way-based interactive program guide (IPG) and navigation system, the centerpiece of a supersized premium video package that features a whole-home DVR, a bigger HDTV lineup, and a suite of interactive applications.

Cox plans to introduce the guide, a new line of Cisco Systems Inc. (Nasdaq: CSCO) boxes that support it, and the overarching "Plus Package" this quarter in Orange County, Calif., targeting a region where the MSO grapples with both AT&T Inc. (NYSE: T) U-verse and Verizon Communications Inc. (NYSE: VZ) FiOS.

Cox, which has already completed its network upgrade deployment of tru2way, plans to add "Plus" in all systems by year's end. (See Cable's Tru2way Build Continues.)

Cox won't be swapping out boxes just to get its new tru2way baby out there, but will try to prime the pump by marketing the Plus Package as a premium product, offering it for $5 more per month to subscribers of any "Advanced TV"-level tier (i.e., those with digital video service).

Cox built the long-anticipated tru2way-powered guide, dubbed Trio, from scratch with the help of frog design inc. and NDS Ltd. , which served as the prime implementer on the project. Cox and its partners have been working on it since 2008. (See Cox Puts NDS at Heart of Tru2way Plan .)

"The guide is really the face of Cox to customers, and we really wanted to put our best face forward," says Cox executive director of video product development Lisa Pickelsimer. (Cox is in the processing of standardizing its legacy, non-tru2way boxes on the Rovi Corp. Passport IPG and ShowRunner VoD app.)

The name "Trio" comes from a three-panel navigation scheme that, Cox hopes, makes it easier for customers to discover and browse content than it's been on cable IPGs of yore.

The left panel lists channels vertically in numerical order, with the middle panel showing the selected channel's schedule, and the right pane providing a detailed description of the selected program.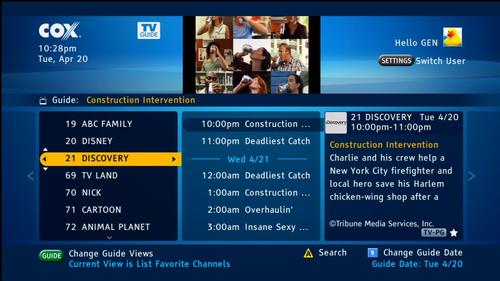 Users can also search for TV shows and movies from the linear lineup, from the Cox video-on-demand (VoD) system, and from what's stored on the DVR. Up to eight users in a home can personalize the guide with favorite channels and ITV apps.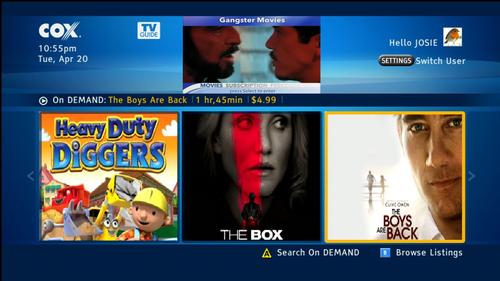 Trio also has thematic "Zone Channels," where multiple channels are presented as a mosaic of video thumbnails. At the start, Cox will offer zones for news, sports, and kids programming.

Boxing up Cisco
The related tru2way-based Cisco combo includes the primary HD-DVR; the Explorer 8642; and HD, non-DVR Explorer 1642 multimedia gateways. The central gateway Cox is going with features 500 gigabytes of storage, with whole-home DVR and networking handled by the IP-based Multimedia over Coax Alliance (MoCA) platform. (See Cox, Entropic MoCA Deal Not Exclusive .)





In a new twist of sorts, Cox says it intends to deploy those boxes in its Cisco- and Motorola Inc. (NYSE: MOT)-based cable footprints. It'll deploy those boxes on Moto systems by overlaying the Motorola conditional access system (CAS) with Cisco's.

Those boxes, which will be paired with CableCARDs powered by Cisco's PowerKEY CAS, will also be the first from Cox to tune to HD channels above the 860MHz threshold, taking advantage of the MSO's recent upgrade to 1GHz. (See Cox Makes 1 GHz Moves .)

Cox currently averages about 80 linear HD channels and more than 1,000 HD "choices," a figure that factors in HD-VoD titles. It will offer more (it's not saying how much more yet) in those Plus Package markets that have been bumped to 1GHz and use switched digital video (SDV) techniques to get the most out of existing bandwidth.

Mobile video on the horizon
Although the new guide and video package will be set-top-based for now, Cox has developed a cross-platform user interface that borrows elements from Trio that will later tie into the MSO's wireless service plans. (See Cox Finds Friends for 3G Wireless Trials in Omaha and Cox: Wireless Coming in March .)

Mobile video and navigation "is solidly in Cox's product plans," Pickelsimer says, noting that the UI for mobile devices "will remind you quite a bit of the Trio guide."

— Jeff Baumgartner, Site Editor, Light Reading Cable