LAS VEGAS -- Consumer Electronics Show (CES) -- Yahoo Inc. (Nasdaq: YHOO) is serious about Internet TV.

A visit yesterday to the company's tent-like booth outside the Las Vegas Convention Center at CES revealed a technology concept that hints at a greater interest in reaching consumers at their TVs -- with or without a service provider.

Yahoo senior product manager Arleen Agricola says the company's "My Channel" product allows users at home to build a custom broadband channel made up of Yahoo-hosted content, be it video, photos, news stories, or blogs.

Think of it as a My Yahoo customized Web page that looks, acts, and feels like a TV channel guide -- a video window can shrink to reveal programming menus, a small ad bar, and jump-off points to Internet Web pages.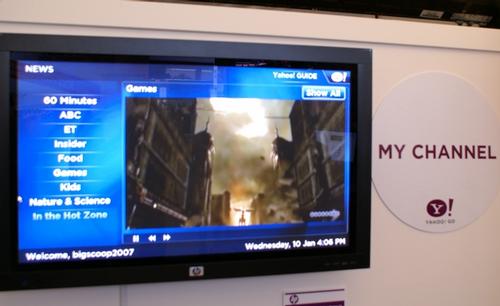 The planned service will require that the consumer have a set-top or a media center PC with Web browsing capability and broadband Internet access. Yahoo says it could also be a hosted service from a cable or IPTV provider. But, like Yahoo's already successful Yahoo Sports for TV, it can also reach consumers with no middleman.

This is still in the conceptual stage, Agricola says, and there are some content licensing issues the company would have to address. "Technically, the consumer is still looking at the Internet, but we would work with our content partners on the rights that make sense," she says.

Though Yahoo's My Channel is only a concept at this point, it shows that Internet media companies are perfectly capable of providing video services to consumer homes, potentially relegating service providers to being dumb-pipe providers.

Yahoo has also made it clear it wants to reach consumers with photos, video, and information services wherever they are. Earlier, the media giant announced a deal with Akimbo Systems , the Internet TV service that has a distribution deal with AT&T Inc. (NYSE: T). Under that deal, Yahoo's user-submitted videos and other video content would be available to Akimbo users to watch in their living rooms, for no extra charge. (See Akimbo Adds Yahoo Video.)

Also, Yahoo debuted Yahoo Go! for Mobile 2.0, a smart, paired-down information service that delivers email, local information and maps, news, sports, finance, entertainment, weather, photo sharing, and search to consumer cellphones. (See Yahoo Tackles Mobile Search.)

— Phil Harvey, Managing Editor, Light Reading