11:00 AM -- Comcast Corp. (Nasdaq: CMCSA, CMCSK) is the first service provider, but certainly won't be the last, to hook up with a broader relationship between Intel Corp. (Nasdaq: INTC) and Yahoo Inc. (Nasdaq: YHOO) that aims to deliver "Widgets" to the television. (See Intel, Yahoo Strike Widget Deal and Comcast, Intel Team on Apps.)

Widgets, in this case, refer to interactive, graphical overlay applications that allow viewers to access a range of information fed by the Internet and personalize what's being delivered. Think news and sports updates, stock tickers, social networking, and perhaps some limited gaming.

Bringing these apps to the TV screen isn't exactly new. Time Warner Cable Inc. (NYSE: TWC), for example, has rolled out something similar via its relationship with BIAP Systems Inc.

But the partnership does signal Comcast's intention to ramp up some TV-based interactivity.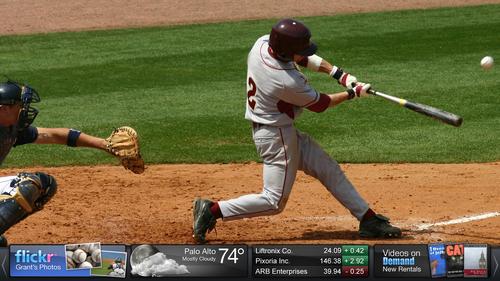 However, if you're a Comcast sub and happen to be excited about all this widget-talk, just know that you may have to wait a while still before these apps make it to a cable set-top near you.

A Comcast spokeswoman said integration testing with Intel will be done in the first half of 2009, but declined to indicate when the applications might be deployed to cable customers.

However, the widget project dovetails a bit with Comcast's plans for the tru2way platform. Although the Widget Channel "framework" will not result in tru2way-specific applications (in fact, those IP-based apps would ride on top of cable's uniform headend and middleware platform), Comcast envisions these widgets running on set-tops and digital TVs with tru2way, so it's a complementary, rather than direct, technical relationship.

When that might happen in a broad sense still leaves much guesswork. Comcast, per the recent signing of that "memorandum of understanding," has committed to provide network support for tru2way in the headends serving all digital cable systems by July 1, 2009. Intel has also signed the MOU and, before that, has already inked a set-top chip deal with Comcast. (See Revealed: The Tru2way MOU, More Firms Go the Way of Tru2way, and Intel Goes Inside Cable... Again.)

Comcast is also on the hook to include the Open Cable Application Platform (the middleware component of tru2way) in 20 percent of new interactive navigations devices (the bulk being set-tops) it purchases after July 1, 2009. So don't expect these widgets to start appearing in Comcast cable environments en masse until a date well after that.

Then again, you won't necessarily need Comcast's blessing (or cable's, for that matter) to access these widgets, because they will be created (and will live outside of) the tru2way ecosystem. Presumably, they could be obtained "over-the-top" via forthcoming Internet-connected DVD players, set-tops, and TVs with the Yahoo "Widget Engine" and Intel's new Media Processor CE 3100 system-on-a-chip on board.

— Jeff Baumgartner, Site Editor, Cable Digital News