LITTLETON, Colo. -- Ever since Starz Entertainment LLC launched Vongo in January 2006 at the Consumer Electronics Show, company officials continue to get peppered with questions about whether the subscription service, which allows customers to download movies and stream the flagship Starz channel via the Internet, is cannibalizing premium cable customers.

The answer? It's still a big "no," according to Joe Cantwell, Starz's vice president of marketing for advanced services, a panelist who spoke here Thursday at an event tilted "The Lowdown on the Download – How the Evolution of Downloadable Content Affects the Cable Industry." It was put on by the Rocky Mountain Chapter of the Cable & Telecommunications Association for Marketing (CTAM) and hosted by the Comcast Media Center (CMC) .

Cantwell said 70 to 76 percent of Vongo customers don't get Starz or another premium network (i.e., HBO and Showtime) from their cable or satellite TV service provider. Moreover, 20 to 25 percent of Vongo's subs don't subscribe to a cable or satellite multichannel video service, opting instead to get their fill of video via broadband and from DVD rental services like Netflix Inc. (Nasdaq: NFLX)

"It's all about control," Cantwell said of what's driving customers to the Vongo service, which "skews heavily" to men, an average age of 38, and to consumers with homes teeming with multiple PCs, laptops, handhelds, and other multimedia tech-toys.

The size of that base remains the big question, since Starz does not release subscriber numbers for Vongo. Starz got into Internet movie delivery in June 2004 in partnership with RealNetworks Inc. (Nasdaq: RNWK). That service, called Starz Ticket on Real Movies, is in the process of being shut down, with customers transitioning to the Vongo service by June 14, a Starz spokesman said.

But now, 30 to 36 percent of the Vongo sub base -- whatever size it is -- is shuttling Vongo content from the PC to their TV screens using S-Video, HDMI (High-Definition Multimedia Interface), WiFi, or some other home networking scheme. That's a group Apple TV and its apparently thin product margins might be interested in.

Starz officials insist Vongo's fare looks good on the TV screen -- with the eye candy meter registering somewhere between the DVD and VHS (Vongo encodes video at about 1.3 Mbit/s using Windows Media). In January, Vongo fleshed out its TV strategy with the introduction of a new TV user interface that works on Microsoft Corp. (Nasdaq: MSFT) Windows Vista and the Xbox 360 console.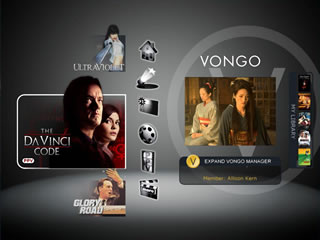 But don't expect Vongo to replicate Apple TV's strategy to offer HDTV fare over the Internet.

"We love HD," Cantwell says of Starz's larger view. The company announced this week that three new HD channels (Starz Comedy HD, Starz Edge HD, and Starz Kids & Family) will be debut in September, complementing the flagship Starz HD channel.

But the sheer file size coupled with today's Internet speeds remain difficult barriers. A four-to-five hour download of an HD movie "is not a good consumer experience," Cantwell said.

Although Vongo is offered through direct Internet retail channels (save for a co-marketing deal with AT&T Inc. (NYSE: T) for its DSL service), Starz would like to see it offered with cable and telco TV partners -- either by bolting Vongo to the service provider's high-speed customer portal or by some other means. "There are negotiations going on in that regard," a Starz spokesman said. "It's a major area of focus [for us] to make that happen."

— Jeff Baumgartner, Site Editor, Cable Digital News