Unsuccessful at getting home users to adopt IPTV, Time Warner Cable Inc. (NYSE: TWC) is taking a swing at business.

The operator's Business Services arm has launched BusinessLink.tv, which pipes 10 news channels to the PCs of business customers via high-speed cable modem connections.

The service uses the installed Docsis cable network, avoiding the need to build and maintain a separate internal television network.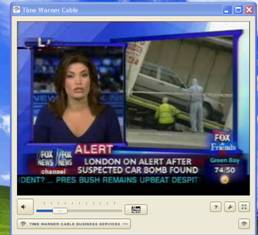 Time Warner Cable is offering BusinessLink.tv only in New York and New Jersey so far, an area with 1.4 million subscribers total.

Although this marks the MSO's first IPTV service for business customers, it's not the first time the operator has dabbled in the technology.

In San Diego, Time Warner Cable conducted an 18-month "BroadbandTV" trial that delivered 75 channels -- the MSO's expanded basic cable tier -- to about 9,000 Road Runner high-speed customers. It found that fewer than 1 percent of the trial customers opted to watch shows on their computers. (See Time Warner Starts Over on BBTV.)

Perhaps in response to that result, BusinessLink.tv features a trimmed-down lineup:
NY1 News
CNN
CNN Headline News
CNN International
CNBC
CNBC World
Bloomberg TV
Fox News
Fox Business News
The Weather Channel


Time Warner Cable Business Class is using a combination of cable modem connections and IP multicast to deliver the service, which requires a "core" LAN bandwidth capacity of 4 Mbit/s. The operator also offers a broader IPTV lineup, including a sports tier and premium fare from HBO, if business services are delivered via a fatter, all-fiber network, rather than a Docsis-based architecture.

"The service is reliable, secure, and provides up-to-the-minute live news without hampering the existing IT infrastructure," says Bhupender Kaul, vice president of commercial services for Time Warner Cable of New York and New Jersey.

Time Warner Cable offers business services in all of its 23 operating divisions, but the MSO does not have any immediate plans to expand the IPTV product beyond the two initial markets, a spokeswoman says.

The MSO shared some technical details about BusinessLink.tv in a whitepaper. According to the documentation, VectorMAX Corp. is playing a key vendor role, supplying architecture elements including the video encoder, the video server, and the software-based video player/PC client. On the high end, VectorMAX recommends speeds of 800 kbit/s for delivery of a 640x480-pixel image at 30 frames per second.

Overall, Time Warner Cable's business division has more than 42,000 customers, but the company declined to say how many have signed up for the BusinessLink.tv service.

Likewise, the operator is not providing specific pricing information. A spokeswoman notes that pricing varies based on several factors, including the tier of service selected, the number of PCs or license fees required by the customer, and the length of the contract.

— Jeff Baumgartner, Site Editor, Cable Digital News