LAS VEGAS -- TelcoTV 2010 -- Cable operators are wrestling with the transition to IP video, in terms of their networks and the way they interact with vendors.

It was a recurring theme during this morning's keynote panel on the challenges facing small cable and telco operators. Given limited resources and the prospect of massive changes coming to video delivery, how can a smaller operator cope?

IP Freedom
All three panelists agreed that IP video delivery is the way to go. Consumers like the fact that they're no longer "temporally and spatially bound" to the TV schedule, said Jeff Finkelstein, director of network architecture for Cox Communications Inc. .

And there's a bounty of vendors waiting to help operators make that transition. But that's also created the problem that comes up whenever a technology gets hot: Too many vendors involved.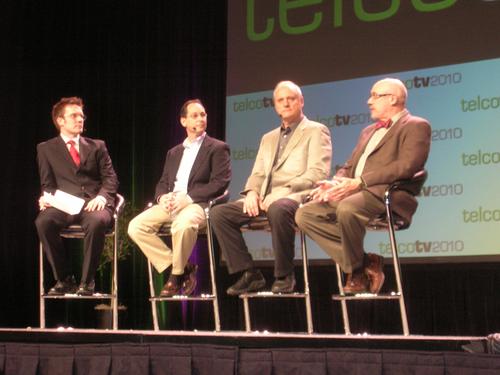 Finkelstein -- included on the "small operator" panel because Cox tests new ideas in its smaller markets -- recalled the days of the first MPEG-2 rollouts. Cox had one provisioning vendor, one set-top vendor, and one edge QAM vendor. Testing the network required testing only one permutation of gear.

Today, Cox has two vendors for set-tops, five for edge QAMs, and three for cable modem termination systems (CMTSs). Interoperability testing is a mess. "The complexity is mind-boggling," Finkelstein said. "We are turning more toward the vendors to build interoperability labs."

The other option, of course, is to build a lab of one's own. That's what Buckeye CableSystem , a smaller operator than Cox, is contemplating.

"We're still in that quandary right now. I think the earlier you get into this, the more likely you have to be a little-big company and invest in a laboratory environment and take on that integration... and make sure everything sings together before it gets out to the field," said Joe Jensen, Buckeye CableSystem's CTO.

Operators talked about their physical constraints as well. Buckeye's network uses one laser to serve two fiber nodes, each passing 500 homes. The operator has started shrinking node sizes, though, to accommodate the increased bandwidth needs. That means sending one wavelength to each node, and, later, using Coarse Wavelength-Division Multiplexing (CWDM) so that each laser serves four nodes.

"Instead of counting channels and managing it on a channel-by-channel basis, we're looking at groups of customers and the aggregate bandwidth we need to deliver," Jensen said.

Bricks and worries
Finkelstein brought up another kind of constraint: real estate. Docsis 3.0 presents the chance to bond eight channels at a time, but "at least in our case, we don't have enough brick-and-mortar space," he said. Cooling, in particular, is a gating factor.

The third panelist, Colman Keane, director of fiber technology for EPB Fiber Optics , didn't share a lot of the cabler's worries. He works for the Chattanooga, Tenn., utility that's built a new network atop its smart grid. (See Chattanooga Rocks 1-Gig FTTH Service.)

Being greenfield, EPB got to do anything they wanted. In terms of interoperability, "we consciously tried to pick vendors that are aligned," Keane said. The utility uses Microsoft Corp. (Nasdaq: MSFT)'s Mediaroom, for instance, taking advantage of its integrated capabilities such as digital rights management.

And when the panel was asked how small operators should prepare for a future that includes over-the-top video options, Keane suggested putting trust in the cloud. Specifically, he recommended working with middleware vendors that are anticipating a cloud-based applications world.

— Craig Matsumoto, West Coast Editor, Light Reading