Skype Ltd. 's founders Niklas Zennström and Janus Friis are about to fast-forward the IP-based TV revolution that telecom vendors and carriers have been talking about for years, with their year-old Internet TV company, Joost . (See Joost Brand Unveiled.)

The company, known previously as The Venice Project and still in its beta test phase, has the same key general features that made Skype a hit. Like Skype's successful VOIP service, Joost is a peer-to-peer (P2P) service that runs over the public Internet to users' PCs -- and it's free.

Zennström and Friis, who also founded P2P network Kazaa , are believed to be the only financial backers, using some of their proceeds from the sale of Skype to eBay Inc. (Nasdaq: EBAY) in September 2005. They have hired Fredrik de Wahl (a former colleague from P2P traffic management vendor Joltid) as the CEO, along with about 150 other staff. (See EBay Buys Skype for $2.6B, Court Lets KaZaa off the Hook, and KaZaA Founder Tips His Hand.)

The firm's media bouncers are keeping Light Reading well away from this trio (for now), so there's no direct comment from the company at present. But in an interview posted, in audio file format, on the company's Website, Friis says: "P2P technology is very good for delivering a perfect broadcast experience in a very scaleable way on the Internet… Free TV is an equally attractive proposition [as free voice]. Once people get the hang of this way of watching TV, we think they'll love it."

The proposition is this: Joost brokers deals with content owners and makes that content securely available to the Joost community, which can then watch it when they want. There are no payments, at this stage anyway. The current beta version does include some advertising inserts from the likes of T-Mobile International AG and cosmetics company L'Oreal that appear before or after the selected video plays.

Currently, the content is "on demand" -- there is no live streaming, and if you return to a video or program having browsed away from it, it starts playing from the beginning again.

Like Skype, Joost is relying on its initial users to say what doesn't work or what they'd like the platform to do. CEO de Wahl notes in his blog that "Beta tester feedback has been hugely valuable (even when it's critical... actually, especially when it's critical)."

The appraisal
Also like Skype, Joost works straight away, as long as you aren't a Mac user -- a version for Apple Inc. (Nasdaq: AAPL) desktops is in the works. Beta users, once they have a password, download a client onto their PC and within minutes are watching videos online without any buffering and with hardly any frame loss. The interruptions are minor and very infrequent, no matter what other applications are running, and the picture quality is good.

What sets Joost apart from other Internet TV services is that you don't have to visit a Website. You simply launch the client and the service is available, as long as your broadband's working.

What you get is a main menu that includes:
A Channel Catalogue, which lists the channels available and allows you to select those channels for...
The "My Channels" option, which lists your chosen channels (see picture below);
"My Joost," which allows you to bring up a selection of tools, more of which in a minute;
A Search tool that allows you to look for the content you want;
A Preferences tool that allows you to adjust settings, such as window size, and how long the tools stay on screen before fading away when they are not used; and
A Help feature to send in feedback.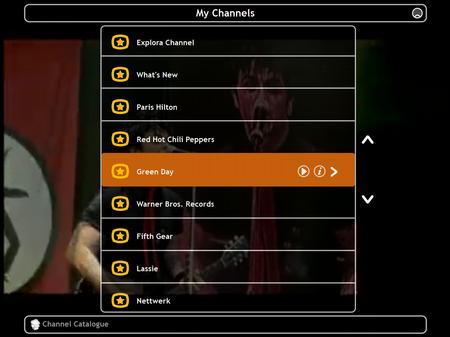 The key here is simplicity -- it's all very intuitive.

If you want to watch something, choose a channel from the My Channels menu, and then choose a video or program from the menu that channel provides. Click on the video you want to see and in about 10 seconds it's playing on your screen.

To Page 2