By launching a second-generation chip for set-top boxes today, Sigma Designs Inc. (Nasdaq: SIGM) is hoping to keep its dominant IPTV market share and further delay the day when Broadcom Corp. (Nasdaq: BRCM) and STMicroelectronics NV (NYSE: STM) start muscling in.

The new SMP8654 is a followup to the SMP8634, which got announced in 2005. (See Sigma Updates IPTV Chip and Sigma Moves HD Chipsets.)

The new chip kicks up performance by 50 percent, says Ken Lowe, Sigma's vice president of business development. That's partly due to a new central processor, as well as additional surrounding processors that can handle some delegated tasks. The chip also works with a faster type of memory than its predecessor.

All of that is important because Broadcom and ST are both skilled chipmakers with big bankrolls, able to take advantage of the advanced semiconductor manufacturing that can produce supercharged processors.

Sigma's chip is an IPTV media processor, the brains that make an IPTV set-top box work. Thanks in part to a monopoly position with Microsoft Corp. (Nasdaq: MSFT)'s IPTV platform, called Mediaroom, Sigma has built up a market share of 80 to 85 percent in IPTV set-top boxes, according to analyst John Vinh of Collins Stewart plc . (See Sigma Touts Success.)

Sigma also sells chips related to the consumer DVD market. But its IPTV standing helped the stock price run up during the last half of 2007.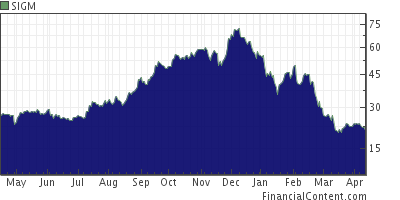 Investors have been waiting for Broadcom and ST to steal away market share. Both have the processor expertise, but they've lacked Microsoft Mediaroom certification and, more important, the software expertise to match what Sigma has done so far. (See Sigma's Luck Goes Omega and Sigma Bounces Back.)

"It's not only the hardware that's the issue, it's the software," Vinh says. "Where we do see competition is in Broadcom getting certified and ramping up on the Microsoft platform."

That probably won't add up to competitive heat for Sigma until next year, he adds.



Apart from IPTV, the SMP8654 is aimed at applications like a digital video recorder (DVR) networked to TVs and PCs throughout the home, or, looking further ahead, videoconferencing.

The new chip is sampling now, with volume shipments expected in September. Sigma isn't disclosing the price but says it's on par with the previous chip.

Vinh, by the way, downgraded Sigma to Hold from Buy last week. He's worried about near-term sales to AT&T Inc. (NYSE: T) -- not because of any problems with U-verse deployment, but because of inventory buildup. (Don't they have a mouthwash for that?)

— Craig Matsumoto, West Coast Editor, Light Reading