Major cable video on-demand (VOD) gear supplier SeaChange International Inc. (Nasdaq: SEAC) has introduced several software upgrades and applications that enable its cable operators partners to restart broadcast TV shows and, further down the line, add-in "social networking" features. (See SeaChange Plugs In 'RestartTV' and SeaChange Adds VOD Personalization.)

SeaChange is offering them all under the lofty umbrella of Axiom On Demand 5.0, the latest version of the vendor's VOD back-office system. [Ed. note: Lofty Umbrella would be a great name for a rock band.] The new product works with the company's own line of video servers and has been integrated with, and deployed alongside, servers made by two rivals: Concurrent Computer Corp. (Nasdaq: CCUR) and Motorola Inc. (NYSE: MOT), which got into the game in mid-2006 via the acquisition of Broadbus Technologies. (See Moto Buys VOD Vendor Broadbus.)

Among the key additions is ReStart TV, an application that, akin to the "Start Over" service pioneered by Time Warner Cable Inc. (NYSE: TWC) and now being rolled out extensively by Bright House Networks , will allow viewers to restart shows (with copyright clearance) that are already in progress. According to SeaChange, its ReStart TV ingest and play-out platform will allow for the pausing and restarting of shows less than 10 minutes into their original broadcast airings. To preserve advertising revenue, ReStart TV will disable the fast-forward function, according to Alan Hoff, SeaChange's senior director of VOD.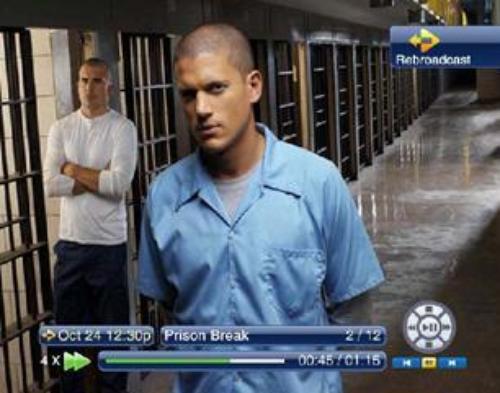 Comcast Corp. (Nasdaq: CMCSA, CMCSK), one of SeaChange's significant VOD partners, confirmed in January that it is gearing up to launch a network-based digital video recording service sometime in early 2009. (See Comcast Feels Like Starting Over .)

Cox Communications Inc. , another MSO that's running SeaChange's Axiom platform and appears to be standardizing on it, has started to introduce an ad-supported VOD service called "My Primetime." (See Cox VOD Effort Matches Vendor Rivals .) Some other big SeaChange VOD customers include Verizon Communications Inc. (NYSE: VZ), Cablevision Systems Corp. (NYSE: CVC), RCN Corp. , Rogers Communications Inc. (NYSE: RG; Toronto: RCI), and Virgin Media Inc. (Nasdaq: VMED).

Although ReStart TV requires integration with the operator's electronic program guide (EPG), Hoff says the system is already involved in some trials, and he expects it to reach full production rollout mode by year's end.

Making it personal
Another major addition to SeaChange's 5.0 platform is "Affinity," a system that uses social networking elements to help viewers sift through and find what they want as the universe of VOD titles continues to expand. Comcast, the prime example, is preparing to launch "Project Infinity" and offer more than 1,000 HD-VOD "choices" by the end of this year, as well as up to 6,000 movies on-demand, with more than half of those in hi-def, sometime next year. (See Comcast Launches 'Project Infinity'.)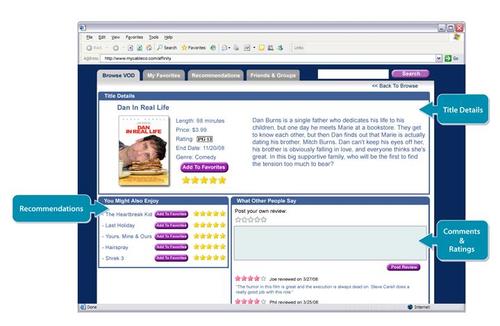 Affinity, an opt-in application, gathers VOD title information from the cable operator's database but allows customers to use a Web-based interface to develop their own VOD lineups, create "favorites," write recommendations, rate shows, and share and swap that information with other "trusted opinion makers" (i.e., friends and family). Affinity also uses set of built-in recommendation engines (including some integrated with still-unnamed third parties). SeaChange has developed an Affinity "widget" that hooks into Facebook.

"We're adding a new dimension of social network [to VOD], which we think is very powerful. We believe that simply listing content, no matter how compelling the UI [user interface], isn't enough to drive significant usage MSOs are seeking with their existing VOD libraries," Hoff says. "There needs to be more emphasis placed on how to get [customers] to view more premium content."

But don't look for Affinity on a PC screen near you, or any other Web-enabled device for that matter. SeaChange expects operators to begin lab tests next quarter, followed by commercial availability in the late third quarter.

SeaChange can host and develop the Affinity application, but, Hoff says, "We're anticipating that operators will want to host this application themselves, probably through their own online presence."

— Jeff Baumgartner, Site Editor, Cable Digital News