Photos: Comcast Tees Up 3DTV Masters

Comment (0)
DENVER --
Cherry Hills Country Club
was the site of a special viewing event
Comcast Corp.
(Nasdaq: CMCSA, CMCSK) put on Thursday afternoon to show off its live 3DTV feed of The Masters golf tourney and, subsequently, the much-anticipated return of Tiger Woods. (See
Masters 3DTV Coverage Exclusive to Cable
and
Verizon & DirecTV: We Weren't Offered Swing at 3D Masters
.)
Comcast's featured two 3DTV sets -- a plasma from
Panasonic Corp.
(NYSE: PC) and an LED from
Samsung Corp.
-- that both required the use of active shutter glasses to generate the intended 3D effect. Our reaction to seeing the technology in action follows our brief slideshow of the event, which you can rev up by clicking the image below: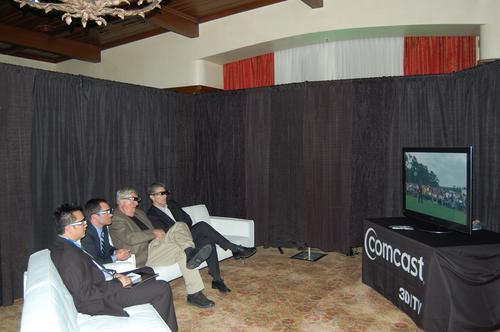 Generally speaking, the 3DTV feed, which was served up on Comcast's live plant to
Motorola Inc.
(NYSE: MOT) boxes (for the Denver-area system, anyway), looked pretty sweet. However, it's clear that some shots -- such as long views of Augusta's rolling (everyone else seems to be in love with the word
undulating
this week) fairways and deep bunkers -- showed off the benefits of 3D technology much better than others.
Golfers and the cameras were also forced to deal with some rain during the opening round -- so seeing rain splotched on the camera lens in 3D was a new experience as well.
But the event demonstrated what it set out to prove -- that 3DTV signals can indeed be sourced and delivered over existing cable plant into legacy digital set-top boxes for viewing by a new breed of 3D-capable TVs.
The big question now is whether the format, which requires consumers to buy pricey sets and glasses, will resonate beyond a small group of early adopters and become much more than an interesting gimmick.
— Jeff Baumgartner, Site Editor,
Light Reading Cable
PARTNER PERSPECTIVES
- content from our sponsors
GUEST PERSPECTIVES
- curated contributions