The Bauminator highlighted research from Cable & Telecommunications Association for Marketing (CTAM) showing consumers are unclear about the upcoming digital TV transition and how it may affect them. (See DTV: Good News/Bad News.)

Cable operators don't have this problem. They understand all too clearly the pain they face due to forced dual must-carry requirements from the Federal Communications Commission (FCC) . (See FCC OKs Dual TV Carriage Rules.)

For its part, Big Apple cable operator Cablevision Systems Corp. (NYSE: CVC) is trying to make this digital lemon into lemonade. According to this account, Cablevision is working to turn over-the-air analog TV viewers into new cable customers well ahead of the February 2009 deadline.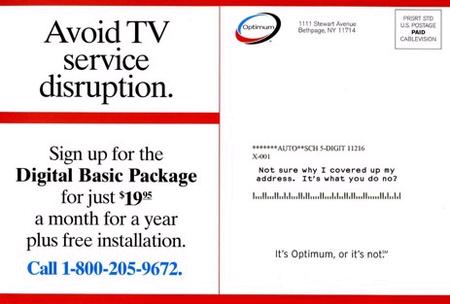 Cablevision's direct mailer explains:


We recently contacted you about the federal requirement to convert all broadcast television stations to digital-only broadcasting. If you currently use an antenna or apartment building equipment to receive your TV signal, you may experience a disruption of your TV service.

The Optimum Network has the new digital format already in place, which means Optimum customers will continue to receive all of their television channels in brilliant digital picture and sound.

To make this transition easy and ensure you continue receiving uninterrupted TV service, we have a special low cost offer for you:

Get our Digital Basic Package for just $19.95 a month for a year including FREE installation.


Of course, The Consumerist's coverage of this Cablevision move is intended to expose a "scare-mongering campaign" by the MSO. "Swindled consumers would pay $240 (plus tax) for the first year of Cablevision's service, instead of $20 for a [digital broadcast] converter box. Warn your grandparents that this is not a good deal," the editor notes.

That's assuming, of course, that the consumer can actually receive an acceptable digital broadcast signal. Time will tell whether over-the-air digital TV flies in the real world.

— Michael Harris, Chief Analyst, Cable Digital News