I've heaped my share of sand over the body of ICTV Inc. over the years. But every time I think I'm burying a corporate corpse, it suddenly springs back to life like a zombie and spits a few granules back in my face.

It amazes me still that this company has managed to hang around as long as it has without accomplishing important "businessy stuff." Like getting deployed and generating revenues, for instance.

ICTV, for the uninitiated, has been in start up mode since 1990. It latched onto the idea of offering interactive, Web-like services and applications to all classes of set-tops, even the feeble "thin-client" models... and hasn't let go since.

While companies like WorldGate Communications Inc. (Nasdaq: WGAT) have given iTV the heave-ho in favor of a broadband videophone strategy, ICTV has carried the interactive torch and, quite honestly, used it to burn up some serious cash along the way.

The ICTV idea wall has so many ideas on it that you can't see the paint on the wall anymore for the ideas are blocking it. It has reinvented itself more times than Madonna, but has had Britney Spears-like results, which goes something like: "You were fun for a while, but now you're boring everyone. Please go away."

But ICTV hasn't gone away. In fact, maybe it has finally solved the riddle with "ActiveVideo" -- this comment based on what I saw at The Cable Show this week in Las Vegas. The only problem is that I believe I have written that I-think-they-really-got-it-this-time line before… like five times. Oops!... I did it again.

Either I'm insane, or they are, or both of us are. But at least ICTV appears to be striking on a slightly different path this time 'round. So I guess that means I'm the leading candidate for insanity now.

What's the same: There are still few ICTV deployments to point to. Most recent one is Grande Communications , which is using the ActiveVideo system to offer a cool-looking mosaic app that customers can customize to their tastes. But Grande doesn't even offer VOD, so they may be desperate for something, anything that falls under the category of "differentiator."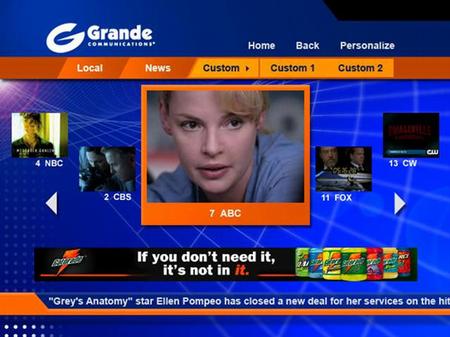 More impressive is the case of PCCW Ltd. (NYSE: PCW; Hong Kong: 0008) of Hong Kong, which is using ICTV for a service that provides movie trailers and allows customers to buy movie tickets via the TV. Impressive because 800,000 subs have access to it, proving that perhaps ICTV has solved previous scalability concerns.

ICTV's overarching technological approach isn't that much different, either – place most of the processing in the headend so all classes of set-tops can run the applications.

What's different: The business model. Instead of going after operators directly, ICTV is carving out deals with programmers so they, rather than ICTV, can build in the interactive component to carriage agreements. Those programmers can develop apps using a WYSIWYG development tool based on the company's AVML (ActiveVideo Markup Language). AVML, we're told, is ICTV's HTML derivative for publishing Web-like content for the TV screen. It creates MPEG objects that are cached at the edge and "stitched" on screen when they are sent inside an "active" stream delivered to the set-top.

Programmers may also be inclined to partner up because they pay ICTV on a per-use basis for the ActiveVideo content delivery network. "If the subscriber doesn't use it, we don't get paid," says ICTV Senior Director of Product Marketing Mark Jeffery.

But that doesn't really solve one of ICTV's historical shortcomings -- not getting paid. To remedy this, there's a new advertising component in ICTV's arsenal. More importantly, that revenue can be shared with operators and the programmers, so that should serve as music to the ears to both.

I should also mention that ICTV was serving up Gatorade by the gallon at its booth, and I had at least five servings to slake a thirst driven by long walks on the show floor and a late night on The Strip. Officials there assured me it wasn't spiked, so I think the chance I'm writing this under sound mind and body is somewhat decent.

— Jeff Baumgartner, Site Editor, Cable Digital News