Sigma Designs Inc. (Nasdaq: SIGM) stock traded down 8 percent after-hours on Thursday as the chipmaker said a stall in IPTV demand is going to hurt revenues.

"We believe that the IPTV market is continuing to experience growth. However there are key markets such as Korea and France that have experienced a temporary slowdown," Ken Lowe, Sigma's vice president of business development, said on yesterday's earnings call with analysts.

As a result, revenues for Sigma's third quarter will be about the same as the second quarter's $58.2 million, officials said. Analysts had expected a climb to $67.8 million, according to Reuters Research .

The news sent Sigma's stock down $1.43 (8%) to $16.36 after hours. Shares rebounded slightly before opening and were at $16.91 in late morning trading on Friday.

This continues what's been a tough streak for the company. Sigma's stock touched $73 per share in December, on the strength of its IPTV standing, but the market's been less kind since.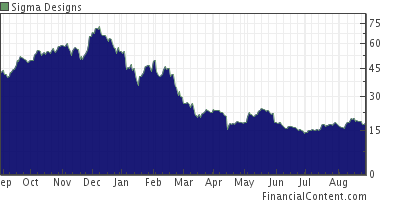 A slowing of IPTV deployments in France is no small chunk of fromage. That country has been a star for IPTV so far, thanks to the combined efforts of Orange (NYSE: FTE); Neuf Cegetel Group (Euronext: NEUF); and Iliad (Euronext: ILD), with its branded service, Free . (See

Top Ten:

IPTV Carriers.)

Korea, along with Japan, has led IPTV deployments in Asia, Sigma said. KT Corp. added 133,000 subscribers in the second quarter, Lowe said, for a total of 700,000. But he added that regulators have slowed the progress of Hanaro Telecom Inc.

Separately, competition has been a lingering question, as Broadcom Corp. (Nasdaq: BRCM) and now Intel Corp. (Nasdaq: INTC) seem interested in cracking the near monopoly Sigma has on processors for IPTV set top boxes. (See Sigma Sinks on Broadcom Scare.) But Lowe said on the call that Sigma isn't worried yet.

Broadcom has been threatening to enter the market for two years but doesn't yet have deployments to show for it, Lowe noted. And Intel, which recently announced plans on IPTV chips, is probably aiming for a high-end type of set-top box that's going to be a minority of the market, he said.

"Most customers in this space cannot afford their price tag or power dissipation," he said. (Ooo -- burn!)

Moreover, Sigma is already sampling its second-generation processor, which it believes will give it some competitive padding against the big players. (See Sigma Enters IPTV Round 2.) That chip is expected to reach volume production late this year.

For its second quarter, which ended Aug. 2, Sigma reported revenues of $58.2 million and net income of $9.6 million, or 35 cents per share, compared with the previous quarter's revenues of $56.9 million and net income of $6.6 million, or 22 cents per share. (See Sigma Designs Reports Q2.)

Sigma's pro forma earnings of 47 cents per share handily beat the analyst consensus estimate of 40 cents.

— Craig Matsumoto, West Coast Editor, Light Reading