EchoStar Corp. LLC (Nasdaq: SATS) continues to put its 2011 acquisition of Move Networks Inc. into action as it prepares to offer a managed, over-the-top video service that supports live TV streaming, a vault of on-demand fare, and a network-based DVR. (See EchoStar Buys Move Networks.)

EchoStar hasn't given the OTT service a formal brand name yet, but it will pitch it to content owners as well as MSOs, telcos and broadband ISPs. It also lines up competitively with Avail-TVN 's AnyView service platform. (See C&W Lime Streams TV Everywhere with AnyView.)

"The [primary] target for this is someone who has content and a pipe," EchoStar VP of Sales and Marketing Michael Hawkey says. He says studios and content owners that don't have their own dedicated infrastructure could use EchoStar to go over the top of anyone's broadband network and ship their content directly to consumers.

One of the technical keys to the service is adaptive bit rate coding, a technology pioneered by Move that boosts or downshifts the bit rate and quality of a video stream based on available bandwidth. Dish Network LLC (Nasdaq: DISH) is already using Move's technology it to deliver some content to set-tops via broadband. (See Dish Makes Its Adaptive Streaming Move.)

The amount of bandwidth required varies by the device, but Hawkey estimates that the service will need 3Mbit/s to 4Mbit/s for an HD stream to look great on a 50-inch TV screen, and is "very watchable down to 1Mbit/s on a big screen," he says.

Bit rate requirements will obviously be lower when video is scaled down for smaller, connected screens such as tablets, smartphones and PCs. The current version of the service supports 14 different bit rates and screen sizes. In addition to current support for popular iOS and Android devices and its own IP-connected set-top boxes, EchoStar is also working on software clients for a range of smart TVs, game consoles and some connected Blu-ray players.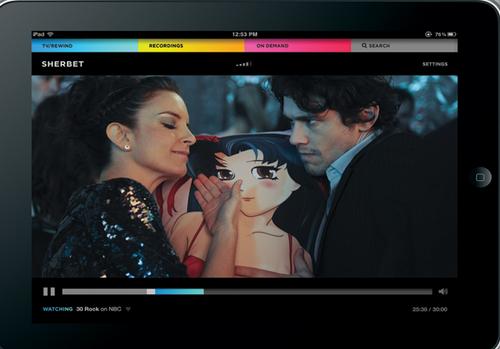 EchoStar's network DVR will handle ingest and caching on the service provider's network or centrally at EchoStar's data centers in Gilbert, Ariz.; or Cheyenne, Wyo. (See EchoStar Sets Sights on a Network DVR .)

"If they have a pipe, we'll try to do caching on their network. If they have no edge, we'll do caching through a CDN [content delivery network] partner," he said.

Hawkey says the components of the OTT video platform, which include a cloud-based user interface, are "functioning well" and being trialed by a number of unnamed telcos and content providers.

The first public customer for it is Televisa , a major producer of Spanish-language programming that works with Univision in the U.S. It's delivering some of its linear channels via broadband to corporate cousin Cablevisión , Mexico's largest digital cable operator. That's in the "early launch phase," Hawkey says.

— Jeff Baumgartner, Site Editor, Light Reading Cable