Dish Network LLC (Nasdaq: DISH)'s integration with Blockbuster Inc. and resulting super-bundle of sorts doesn't set out to deck an already reeling Netflix Inc. (Nasdaq: NFLX) (at least not yet), but it will instead be wielded against its cable rivals, aiming to jolt Dish's sagging pay TV subscriber base.

Blockbuster Movie Pass, introduced Friday at a San Francisco event, is the first integrated product out of Dish's five-month-old purchase of Blockbuster. It will bundle several services, including video streaming to PCs and to connected set-tops, by-mail DVDs and games, and several premium TV channels. Here's what Dish is packing into Blockbuster Movie Pass:


More than 100,000 movies and TV shows via mail (no extra charge for Blu-ray)
3,000 movies that can be streamed to the TV via broadband-connected Dish set-tops (5 million to 6 million Dish receivers have IP outputs)
10,000 movies and TV shows that can be streamed to PCs (with Dish and Blockbuster adding support for tablets and other devices later this year)
3,000 games (by mail)
Unlimited store exchanges at Blockbuster's 1,500 U.S. stores
20 premium movie channels


Dish will start selling Blockbuster Movie Pass on Oct. 1 for $10 per month as an add-on; it also comes bundled for new customers that take the roughly $40-per-month America's Top 200 package and commit to staying with Dish for two years. The $10 per month lets you rent one DVD at a time; there'll be $15 and $20 tiers that allow more.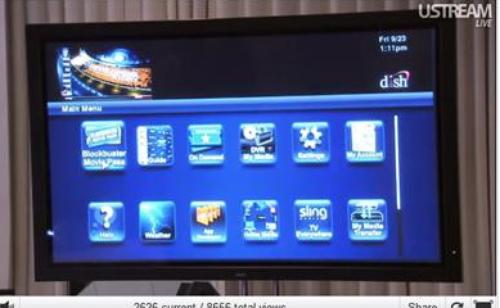 Why this matters
Dish is transforming from a satellite TV giant into a multiplatform entertainment company. It's looking for this new package to help shore up its pay-TV base, which shrank by 135,000 subscribers in the second quarter, and to out-bundle competitors such as Comcast Corp. (Nasdaq: CMCSA, CMCSK) and DirecTV Group Inc. (NYSE: DTV)

As with Dish's earlier acquisition of Sling Media Inc. , Blockbuster's reach will extend beyond just Dish. Blockbuster President Michael Kelly said a broadly offered subscription streaming package is in the works, one that could take on Netflix directly -- but he didn't say when it might arrive.

For more
Get caught up on Dish and Blockbuster.

— Jeff Baumgartner, Site Editor, Light Reading Cable