DirecTV Pushes Play on VOD Beta

Comment (0)
A small pocket of
DirecTV Group Inc.
(NYSE: DTV) customers are getting a sneak peek at its coming on-demand service, which will function more like a souped-up, Internet-enabled digital video recorder than a two-way video-on-demand (VOD) service offered by cable MSOs and some telco TV operators.
According to
some early details
that have sprouted on the Web, DirecTV On Demand will download movies and other content to
HR20
receiver models that are outfitted with special software and an on-board DVR. DirecTV is expected to launch the service commercially sometime this fall.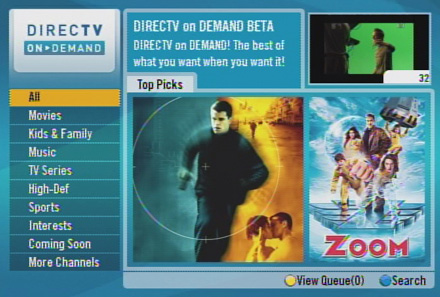 Once a title is downloaded to a partitioned section of the receiver's hard drive, users can access it using traditional "trick-play" functions, such as play, fast-forward, pause, and rewind.
DirecTV has not published an initial on-demand lineup, but users have reported a range of pay-per-view movie titles, including some in high-def format, movie trailers, and subscription fare from networks such as Starz.
By affixing the "on-demand" label to the service, DirecTV can be sure it's part of the conversation around that service category and push a perception that its offering is comparable to the two-way VOD services delivered by cable operators and some telcos, including
Verizon Communications Inc.
(NYSE: VZ).
DirecTV has not disclosed how large its local DVR-driven VOD offering will be, but it will certainly be a far cry from the 9,300 VOD titles
Comcast Corp.
(Nasdaq: CMCSA, CMCSK) averages today. DirecTV officials were not immediately available for comment.
EchoStar Satellite LLC
offers a
similar service
on DISH Player DVR models. The company offers a movies-on-demand application, but it expects to add more content categories.
Even if their "on-demand" services end up being less robust than cable's, DirecTV and EchoStar are ensuring that their primary competitor does not own the category completely.
"DBS has done a good job of blurring what on-demand is," says Bruce Leichtman, president and principal analyst of
Leichtman Research Group Inc. (LRG)
. "It gives them the ability to say they have on-demand even though a vast amount of customers won't have access to it."
"To their credit, satellite operators have done a good job of placing themselves in that genre," agrees Jimmy Schaeffler, chairman and senior research analyst for
The Carmel Group
, which tracks the direct broadcast satellite industry. "But the jury is still out on how successful it will be relative to pure VOD."
Cable, Leichtman says, finds itself in a similar spot with its wireless co-venture with
Sprint Corp.
(NYSE: S). It gives MSOs such as Comcast,
Time Warner Cable Inc.
(NYSE: TWC),
Cox Communications Inc.
, and
Bright House Networks
a place at that table, despite the fact that availability of the "Pivot" service remains limited.
Although cable offers VOD via a two-way network and generally has a much larger vault of new and library titles available on-demand, "the message of cable's [VOD] offerings has not gotten through to the DBS subscriber," Leichtman says.
But other than disallowing cable and telco TV providers from owning the VOD category, what else can DirecTV expect to get from its budding service?
"Next to nothing," Leichtman predicts of the overall impact. "But who knows if that will be good or bad. The whole idea is retention, anyhow," he adds.
Still, the limitations of the DirecTV On Demand offering, on a macro level, still point out a recurring concern that satellite TV players still lack a two-way infrastructure, which not only impacts VOD offerings but the ability to bundle together multiple services, Schaeffler says.
Part of that question was addressed earlier this month, when DirecTV teamed up with
Current Communications Group LLC
as part of a plan to begin marketing powerline-based broadband services by the end of this year or early 2008, starting in the Dallas-Ft. Worth area. DirecTV and EchoStar are also moving ahead with WiMax in partnership with
Clearwire LLC
(Nasdaq: CLWR). (See
DirecTV Plugs Into BPL
and
DBS Duo Adds WiMax
.)
Earlier this week, DirecTV said it will supply HomePlug-based adapters to help HR20 models access the Internet. (See
DirecTV Plugs Intellon
.)
— Jeff Baumgartner, Site Editor,
Cable Digital News
PARTNER PERSPECTIVES
- content from our sponsors
GUEST PERSPECTIVES
- curated contributions