1:45 PM -- Comcast Corp. (Nasdaq: CMCSA, CMCSK) is the latest MSO to dip its toes into the waters of 3D television.

On Tuesday (June 16), Comcast, in tandem with Lionsgate, started offering slasher flick My Bloody Valentine in 3D via its video-on-demand platform. Comcast is offering the 3D version only in hi-def format. The same $5.99 rate applies for the 3D and 2D versions of the hi-def title. The MSO's newly installed 48-hour rental window applies. (See Comcast Opens VoD Windows.)

Although the Society of Cable Telecommunications Engineers (SCTE) is already weighing a 3D standard for cable, Comcast is kicking off its 3D effort with a film that uses the anaglyphic process, meaning that customers need only don those relatively simple red/green glasses. (See SCTE Looks at 3DTV .)

According to a letter from Comcast spokeswoman Alana Davis, the MSO has mailed 1,000 pairs of the 3D specs to each of its payment center and mail locations, where customers can pick them up for free (with a six pair limit). Here's a pic of a pair, which touts the flick: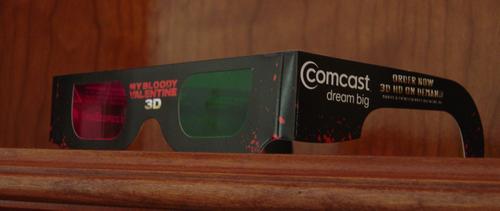 Update: Turns out this isn't Comcast's first foray into 3DTV. We're told the first was for Hannah Montana: The Movie on Starz. Valentine, however, is the first time the MSO has applied 3D to a "transactional" movie. Comcast, which is making more than 1 million pairs of 3D glasses available for the latest effort, says it will do the 3D thing again when it begins offering The Jonas Brothers: The 3D Concert Experience on July 15. [Ed. note: Can. Not. Wait.]

The MSO claims to offer more than 10,000 titles on-demand and serves up north of 11 billion on-demand views so far.

But it's just the latest operator to tout a 3D VoD offering. Canadian MSO Shaw Communications Inc. is also doing the anaglyphic thing starting this summer with Corus Entertainment Inc. for a range of films, sports programming, and concert events. (See Shaw Puts 3D-TV Into View .)

— Jeff Baumgartner, Site Editor, Cable Digital News




---
Interested in learning more on this topic? Then come to Cable Next-Gen Video Strategies: Competing in the Three-Screen World, a one-day conference that will take a comprehensive look at the cable industry's attempts to generate revenues and fend off its rivals by deploying next-generation video technologies. To be staged in Atlanta, June 25, admission is free for attendees meeting our prequalification criteria. For more information, or to register, click here.


---