Comcast: To Xfinity & Beyond!

Comment (0)
Welcome to the broadband and cable news roundup, Turkey Day edition.
Comcast Corp. (Nasdaq: CMCSA, CMCSK) has released an update to its Xfinity TV Player app that lets video subscribers download select movies and original series from Showtime Networks Inc. and Starz Entertainment LLC (including the flagship Starz channel, Encore and MoviePlex) to iOS and Android devices. The 1.2 version, released Tuesday (Nov. 20), claims to offer "thousands" of shows and movies from the premium programmers. Once downloaded, Comcast customers must input their credentials (a Comcast ID or Comcast.net email address and password) to gain access. The download library typically offers two versions of a title, at "Medium Quality" and "Highest Quality" ("Crummy Quality" need not apply). The high-quality version of John Carter came in at 2.9GB, while the medium version was 576.1MB. Comcast also offers streaming versions of those titles as part of its TV Everywhere package, but the downloaded versions, which mimic the iTunes model without the individual payments, will be useful for customers who want to take shows with them for viewing on airplanes or from other locations that don't have access to a good Wi-Fi signal.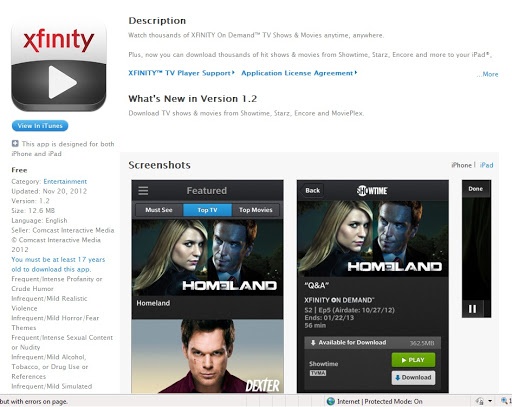 Time Warner Cable Inc. (NYSE: TWC) is hitting back at OTT voice services such as Vonage Holdings Corp. (NYSE: VG) and Skype Ltd. with the debut of its Global Penny Plan, a 1-cent-per-minute rate for "the 40 most popular international destinations," including Mexico, the U.K., China and India. TW Cable and other operators are adding IP voice features to retain and gain customers as VoIP subscription take-rates continue to flatten out. (See TW Cable Misses Q3 Targets .)


Microsoft Corp. (Nasdaq: MSFT) is building a low-cost, slimmed down version of the Xbox that will stream video and support casual games, putting it on a path to compete directly with devices made by companies such as Roku Inc. , reports The Verge. The article notes that it will be unveiled ahead of the 2013 shopping season and will run on "core components" of Windows 8.


EchoStar Corp. LLC (Nasdaq: SATS)'s XVI Ku-Band satellite launched successfully Wednesday from the Baikonur Cosmodrome in Kazakhstan, establishing the 22nd spacecraft in the company's fleet of owned, leased and managed spacecraft. The Space Systems/Loral-made "bird" will ultimately be maneuvered into orbit 22,300 miles above Earth at 61.5 degrees west longitude. EchoStar is leasing the full capacity of the satellite to corporate cousin Dish Network LLC (Nasdaq: DISH). For your oohing and aahing pleasure, here's the launch in all its glory:



— Jeff Baumgartner, Site Editor, Light Reading Cable


PARTNER PERSPECTIVES
- content from our sponsors
GUEST PERSPECTIVES
- curated contributions