DENVER -- Comcast Corp. (Nasdaq: CMCSA, CMCSK) appears to be seeding a future IPTV strategy with the ongoing introduction of a new breed of digital set-top boxes that can be become IP video-capable via the addition of new software and firmware.

Several industry sources have mentioned this capability to Light Reading Cable in conversations in recent weeks, but Comcast EVP and CTO Tony Werner confirmed it Thursday when he spoke here at the WICT Rocky Mountain "Tech It Out" event at The Cable Center .

Responding to a question on that topic, he said those Comcast-specified boxes, which go under the Residential Network Gateway (RNG) umbrella -- are indeed IP-cable, noting they come equipped with a Docsis modem and an IP address.

He said Comcast has already deployed a bunch of them running in "native" mode, but "we can flip them" to support IP video.

Werner didn't go into when Comcast might start that process or how the MSO might take take advantage of those IP capabilities, but a person who's familiar with the project said the "biggest value of the [RNG] box is that it's architected for IP using a change in the software control [layer]. It can be best described as a computing network box that also works as a set-top."

Comcast is already deploying HD-only and HD-DVR RNG models that support both MPEG-2 and MPEG-4, and use CableCARD-based security. It's understood that the operator is also working on a more advanced "gateway" model based on Intel Corp. (Nasdaq: INTC) silicon that can share content with other devices. Early on, Comcast had specified a standard-def RNG box, but since then has been using simple Digital Terminal Adapter (DTA) devices to help fulfill its SD box needs. (See Intel Goes Inside Cable... Again, Intel Snares TI's Cable Modem Business , and Will Intel Go Inside Cable Multimedia Gateways? )

An MSO spokeswoman recently confirmed that Comcast is "broadly deploying RNG-class boxes," sourcing set-tops from Motorola Inc. (NYSE: MOT), Cisco Systems Inc. (Nasdaq: CSCO), and Pace plc that can be upgraded to support tru2way. RNG boxes "from at least one other OEM are current in field trials," the official said.

Panasonic Corp. (NYSE: PC) has shown off RNG-class boxes in the past, but sources say Samsung Electronics Co. Ltd. (Korea: SEC), which has some info on its RNG products for Comcast listed here, has gotten in the door at the MSO. Here's an HD-only RNG 110 box from Pace that was recently installed for a new Comcast subscriber in Highlands Ranch, Colo.: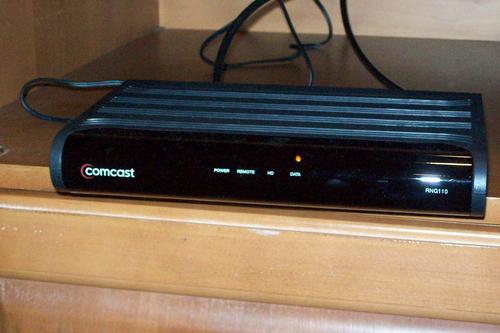 Once Comcast flips these boxes to IP mode, how the MSO will take advantage of those capabilities is not yet known.

Once source said the box, once connected to the home's cable modem on the home network, would be perfectly capable of receiving over-the-top video content via its Ethernet port, which, according to the Pace RNG 110 manual is labeled "for future use." Newer RNG boxes will also use Multimedia over Coax Alliance (MoCA) technology for high-speed home networking.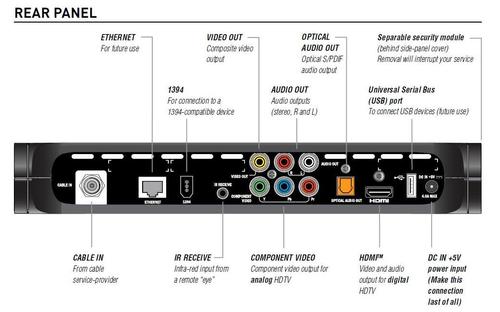 But it's also not clear how Comcast might source OTT content. It may take a page from Virgin Media Inc. (Nasdaq: VMED)'s playbook with Cisco and TiVo Inc. (Nasdaq: TIVO) and go with a walled garden approach, perhaps giving Comcast customers a relatively seamless way to pipe in content from its just-out-of-beta Xfinity TV Online service to TV screens and impose digital rights management (DRM) in the box. Or it might go with a managed IPTV simulcast of its traditional linear and on-demand cable TV service. Or it could support a mix of both using the box's hybrid QAM/IP capabilities. (See Virgin STBs to Ride Broadband Video Expressway,

Cable-Tec Expo:

What's the Magic IPTV Number? , and Comcast's TV Everywhere Play Breaks Out of Beta .)

In yet another scenario, the box, with the help of Digital Living Network Alliance (DLNA) , could also be used to playback content stored on PCs and other external storage units. (See Tru2way Flashes Some Retail Hope .)

Big CES news coming?
Here at Thursday's event, Werner said Comcast has interest in supplying content to the "input B" of broadband-connected TVs, a domain currently dominated by the likes of Netflix Inc. (Nasdaq: NFLX), Hulu LLC , and YouTube Inc. and other sources of Internet-based content. [Ed. note: "input A" is the primary TV input used for traditional cable, satellite, and telco TV subscription services.] (See Rumor: Comcast Plots OTT Stealth Attack and Comcast Forges 'Excalibur' for IPTV.)

Werner said cable is likewise interesting in writing software and user interfaces for TVs and other retail consumer electronics devices that could deliver the MSO's content to Input B.

But how soon might these devices start to feature on-screen "badges" that represent OTT services from Comcast, Charter Communications Inc. or another MSO in the way they currently do for Netflix and Amazon.com Inc. (Nasdaq: AMZN)? Werner wouldn't say when that might happen, but did suggested that the cable industry's already working with CE firms, and some details on those efforts may start to emerge by early 2011.

"There's going to be a lot of activity that you're going to see at CES (the Consumer Electronics Show), if not before," he alluded.

— Jeff Baumgartner, Site Editor, Light Reading Cable