Welcome to the Hump Day edition of the cable news roundup.


Comcast Corp. (Nasdaq: CMCSA, CMCSK) says its customers have watched 20 billion "entertainment choices" on-demand since the MSO launched VoD service in 2003. Warner Bros.'s The Hangover is its top pay-VoD movie to date. Here's how the MSO's VoD views and choices have stacked up so far: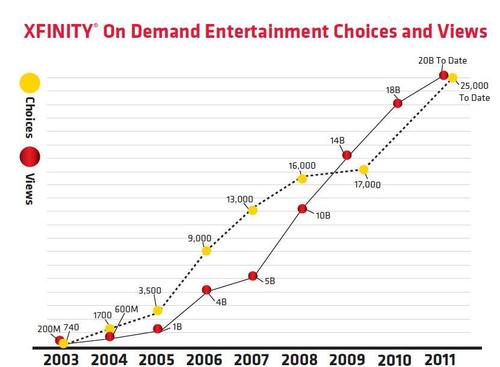 CableOne has not set a timeline for when it expects to restore service in Joplin, Mo., following the devastating tornado that ripped through the town. "There are still some areas that we can't get into," a spokesperson told The Joplin Globe.


AT&T Inc. (NYSE: T) is relying on a "branded entertainment" program about home design on Lifetime to help market U-verse TV. (See AT&T Touts the U-Verse Reality.)


Comcast insists its rates in Boston are "highly competitive," as it battles the city's attempts to regulate pricing.


Walmart's VUDU Inc. movie rental service will get a dedicated button on remote controls for connected TVs and Blu-ray players from Vizio Inc. -- a move that follows a similar strategy by Netflix Inc. (Nasdaq: NFLX) (See Entone Crafting VUDU-Powered Cable Boxes .)


Challenging Best Buy's Geek Squad, Comcast launched its Xfinity Signature Support service in Boston. (See Comcast Debuts Xfinity Signature Support .)


Home Box Office Inc. (HBO) launched a second-screen social TV site called HBO Connect, encouraging subscribers to interact with friends while watching Entourage, True Blood and other originals.


Advanced ad firm BlackArrow Inc. named Laurel Gilbert -- late of Sigma Systems , Microsoft Corp. (Nasdaq: MSFT) Digeo Inc. and Starz Entertainment LLC -- to EVP, service provider solutions. (See NDS Leads $20M Bet on BlackArrow.)

— Steve Donohue, Special to Light Reading Cable, and Jeff Baumgartner, Site Editor, Light Reading Cable