A union between Comcast Corp. (Nasdaq: CMCSA, CMCSK) and NBC Universal won't pose a threat to the developing market for Internet-fed video services that may end up competing with Comcast's traditional cable TV service or its more recently introduced Web-fed video offerings. (See Comcast to Take Control of NBC Universal.)

That's one of a long list of arguments Comcast and NBCU laid out to the Federal Communications Commission (FCC) Thursday in the form of a 145-page Public Interest Statement (PDF).

It marks the next step in Comcast's proposed deal to assume control of NBCU and create a separate joint venture. Comcast filed its Hart-Scott-Rodino paperwork on Monday, which kicked off the Department of Justice's review of the agreement.

Generally speaking, Comcast continues to characterize the deal as a vertical, rather than horizontal, integration of content properties. Further, Comcast hopes the creation of a corporate buffer between its cable distribution business and the proposed content arm will counter antitrust or anti-competitive issues being raised by rivals, consumer protection groups, and even fellow cable organizations. (See ACA Calls Out Comcast/NBCU, Cable ITV Watch: Comcast, NBC Gear for a Grillin', and Comcast-NBCU Union Under Fire.)

As online video goes, Comcast won't be contributing properties such as Comcast.net, Fancast.com, or newer Fancast Xfinity TV service (which gives cable-TV subs access to a library of premium content online) to the resulting NBCU joint venture. NBCU's 32 percent interest in Hulu LLC also won't become part of the NBCU Newco. (See Comcast to Expand 'Xfinity' to DSL Subs, Comcast's 'Xfinity' to Go Mobile in 2010 , and Comcast's 'Xfinity' Goes Live .)

And even if those were added in, Comcast says they represent just a fraction of the overall Web TV universe: Comcast's online video properties account for 0.3 percent of videos viewed online, with online video properties controlled by NBCU coming in at just 0.7 percent. Hulu, meanwhile, represents just 4 percent of videos viewed. According to recent comScore Inc. data, Google (Nasdaq: GOOG) is the king, with its properties, including YouTube Inc. , representing 55 percent of online videos viewed.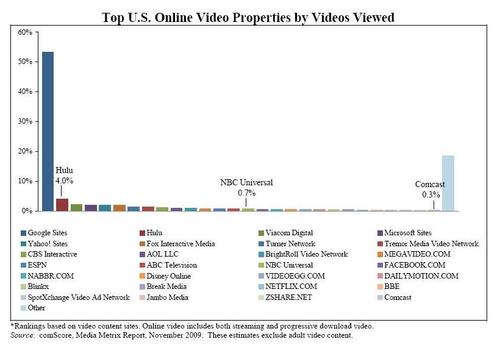 If that segment was to be more narrowly focused on "professional video content," Comcast argues that it and NBCU still aren't huge players: Comcast has just 1 percent of that market, with NBCU properties clocking in at 2 percent. Hulu, however, has a more sizable 10 percent of that pie, though NBCU doesn't own a controlling stake in that property.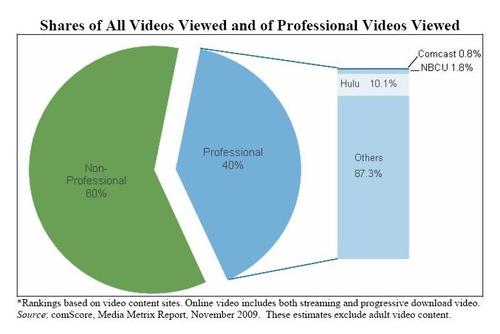 Given all those scenarios, "the proposed transaction would not result in a significant increase in competition," Comcast argued, noting that online video products from Netflix Inc. (Nasdaq: NFLX), Amazon.com Inc. (Nasdaq: AMZN), VUDU Inc. , Boxee , and Apple Inc. (Nasdaq: AAPL) show that the market is already highly competitive.

"There is no reason to believe that new entrants will be unable to negotiate similar agreements and provide offerings competitive with those of incumbent online video distributors," the MSO said.

Further, Comcast believes it would be "inappropriate" for the FCC to foist any conditions on the deal based on the mere speculation that the crop of online video players could emerge one day to become direct competitors to Comcast's traditional cable TV business.

'TV Everywhere' accelerator?
Concerns over online video competition is just one issue Comcast addressed in the filing, though the company didn't make any specific commitment in that area.

However, it did allow that a union of the companies could accelerate Comcast's own "TV Everywhere" strategy and help drive broadband adoption, because it would remove some "negotiation impediments" it's encountered while trying to develop a content library for cross-platform distribution.

"Reliance solely on obtaining content from unaffiliated entities is preventing or delaying new services and enhanced content," Comcast said.

Most of the filing covered the structuring of the deal itself and rehashed and expanded on a laundry list of public interest commitments it made when announcing the proposed transaction on Dec. 3, 2009.

Among the pledges, Comcast is offering to add two new "independently-owned and operated channels" (those not owned or affiliated with Comcast or NBCU) to its digital lineup each year for the next three years after it completes its analog reclamation strategy company-wide. Comcast has that initiative, internally called "Project Cavalry," underway in several markets, but doesn't expect to complete the job until sometime next year. (See Comcast Lights Up DTA Encryption and Comcast's $1B Bandwidth Plan .)

— Jeff Baumgartner, Site Editor, Cable Digital News