A much-deserved tip of the hat goes to Leslie Ellis, a mentor of mine who was recognized Wednesday evening in Denver as the recipient of the Women in Technology award, an annual honor bestowed by the Rocky Mountain Chapter of Women in Cable Telecommunications.

Leslie, as you probably already know, is a popular independent analyst, columnist, and author, who has made it her business to make engineering and technology gobbledygook understandable and accessible to marketing folks as well as other non-engineers who might not know a cable modem from a cable car.

For years, her Translation, Please column has been a must-read, as it cuts through the gibberish and technobabble on subjects like the QAM, node splits, and VOIP peering.

She's witty and smart… and has a wonderful sense of humor. Not a bad combination.

Before the big event got underway Wednesday, she passed out a few dozen kiddie sunglasses to friends and colleagues to help her whoop it up and celebrate when her moment came. To keep the spirit of geekiness intact, the bridge of each pair was fashioned with masking tape. Gilbert Lowell and Louis Skolnick would be proud of this moment in cable history.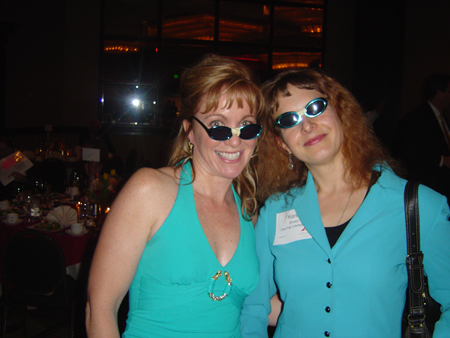 "Everyone here who knows me knows that I just don't take myself all that seriously," she said in accepting her award. "I much prefer trying to find the humor in the situation. For that reason, let us all take a moment to celebrate 'The Geek Within Us.' " That, of course, was our cue to don the glasses, stand up, and cheer.

Congrats, Leslie! The overdue honor is well-deserved.

But Leslie was one of several cable folks honored this year by WICT RM:

Mentor of the Year – Brad Dusto, West Division President, Comcast
Dusto, who nominated Ellis, was recognized for his commitment to on-going mentoring, coaching and developing others.

Quotable: "While I have an audience, let me also apologize [to wife, Hannah] for working on budgets in the hospital room when Ethan was born. We all struggle with work and life balance, and this example is one I share with those I mentor as a behavior NOT to emulate."

Woman of the Year – Judi Allen, President, ALLENStrategies
Quotable: "Take risks. Keep your options open. In hiring and promoting, look for cultural fit, personality, raw skills, energy and intent -- not just the exact resume of past positions that prove your preferred candidate can do -- no, has already done -- the job."

Woman of the Year – Cathy Fogler, Vice President of Video Programming and Product Management, Charter Communications
Quotable: "As you sit here tonight at an event with a meal and a few speakers, I wish that your power of observation be strong and that your bias be towards action. In the words of anthropologist Margaret Meade, 'Never doubt that a small group of committed individuals can change the world. Indeed, it is the only thing that ever has'."

Partner of the Year – Cindy Bennett, President, Organic People
This award recognizes a man or woman "who serves the cable industry and enables women to achieve their full potential."

'Woman to Watch' honorees

Brenda Price, Senior Director of Marketing, Time Warner Cable;
Corrina Ruttkar, Vice President of Customer Strategies, CSG Systems;

Vernise York, Digital Voice Operations Manager, Comcast.

— Jeff Baumgartner, Site Editor, Cable Digital News