Cable Advances on Advanced Ads

11/25/2008

Comment (0)

The cable industry's advanced advertising effort took an important step forward this month when 15 vendors converged on CableLabs for the first-ever interoperability test of its kind.

The test, hosted by Louisville, Colo.-based CableLabs the week of November 10, brought in suppliers representing a range of concerned parties, including advertising decision managers, video-on-demand (VoD) systems, campaign managers, advertising decision services, and a relative newcomer called the Placement Opportunity Information Service, or -- what else? -- POIS. (See CableLabs Holds Ad Interop.)

Here's a list of who brought what to the interop:

Table 1: Who Plugged & Played

Vendor
Element(s) supplied for interop
Arris
VOD system and the Advertising Decision Manager (ADM), which defines messages in support of ad-insertion activities and sends those messages to the Advertising Decision Service (ADS).
BIAP Systems Inc.
Set-top user agent that conforms with the CableLabs EBIF standard.
BlackArrow
Campaign manager and the ADS, which determines how advertising is to be placed within the program. That decision could be as simple as determining which ad is placed at which time, or could be based on information such as subscriber data or advertising zone.
Concurrent Computer Corp.
ADM and ADS.
Ensequence
Set-top client.
Front Porch Inc.
User activity data, exported to the Subscriber Information Service (SIS), which manages ad placement decisions on a per-subscriber basis; and the Content Information Service (CIS), which manages metadata describing all the "assets" (advertising and non-advertising).
Invidi Technologies Corp.
ADS.
Microsoft Advertising
Campaign manager and ADS.
Motorola
ADM and VOD system.
OpenTV
ADS.
Sigma Systems Inc.
Provisioning system.
Tandberg Television
ADM, ADS, and VOD system.
This Technology
CIS and the Placement Opportunity Information Service (POIS), which, as described by SCTE documents, "holds, maintains, or retains descriptions of [ad placement] opportunities." The POIS is intended to link together multiple advertising decision services.
UniSoft Corp.
EBIF/enhanced TV user agent.
Visible World
ADS
Source: The companies and Cable Digital News research
And here's a diagram showing how they're all supposed to link together: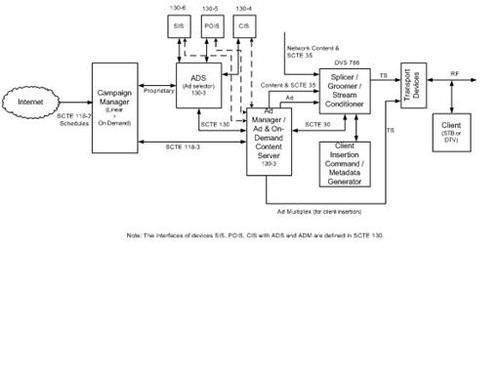 There's a sense of urgency around the cable industry's interactive and addressable advertising efforts, as ad dollars continue seeping to the Internet, which still outstrips cable TV's ability to produce targeted and more measurable advertising. (See
Plugging the Ad Drain
.)
This month's interoperability effort centered on SCTE 130, a set of emerging
Society of Cable Telecommunications Engineers (SCTE)
standards that serve as the technical blueprint for cable's advanced advertising platform. The SCTE
approved
the first half of those standards in August.
The idea is to create common technical interfaces and data collection systems to let components from different vendors to work together. Although some extra integration work is to be expected, the SCTE 130 standards would, theoretically, let operators pick and choose elements for their advanced advertising systems and avoid being locked into one or two suppliers.
"Individual vendors couldn't run around the country to conduct an interop [of this scale]. There aren't enough hours in the day," says Paul Woidke, the senior vice president of advanced advertising for
OpenTV Corp.
(Nasdaq: OPTV) "We had an extraordinarily good turn-out for a standard that is early in the implementation process by vendors." Woidke also serves as chairman of DVS/Working Group 5, the SCTE committee that's helming the addressable advertising initiative.
Beyond "addressible" advertising (targeting ads to specific demographics), the CableLabs event included testing on some interactive ads supported by Enhanced TV Binary Interchange Format (EBIF) and the more powerful tru2way platform. (See
Comcast, TWC Plan for EBIF
,
Comcast Media Center Buffs Up for EBIF
,
Denver, Chicago First to Get Tru2way TVs
, and
Revealed: The Tru2way MOU
.)
Standards at work
Although it's clear that there's much more work to be done, vendor participants said the CableLabs event at least achieved its base goal: showing that SCTE-130-compliant parts can work together.
"I think that SCTE 130 is very real," says Jeffrey Sherwin, founder of
This Technology
, which supplied two new and crucial components of the advanced ad system -- a Placement Opportunity Information Service (POIS, remember?) and customer information service (CIS). The role of This Technology's products -- MetaMore and SpotBuilder -- was to provide a centralized ad space management system that works across different campaign management systems and, potentially, across multiple MSOs.
This Technology hooked its systems into SCTE 130 advertising system components from OpenTV,
Concurrent Computer Corp.
(Nasdaq: CCUR),
Tandberg Television
, and
BlackArrow Inc.
"We could see all the [advertising] inventory for all the different demos simultaneously," Sherwin explains.
Just a first step
As usual for a first interoperability test, not everything worked perfectly. Some data exchange and syntax errors popped up, not because of an issue with the standards themselves, but due to the way some vendors implemented the standards, says Paul Delzio, a director of product strategy at Arris.
In addition to about 40 cable operator and programming representatives, the event attracted some folks from Canoe Ventures, the initiative that's creating a services bureau for cross-MSO advanced advertising. (See
Canoe Ventures: What It Is, What It Ain't
,
Canoe Ventures Paddles Ahead
,
Verklin Picked as Cable's Canoe Captain
, and
Cable's 'Canoe' RFI Paddles Toward Deadline
.)
Representatives have made it clear that Canoe won't tell MSOs, programmers, and advertising agencies what products they should buy, but it's expected that the consortium will put SCTE 130, and the products that support it, to good use.
Vendors are expected to use the results from this first round to refine their products and get ready for the next round, expected to take place in the spring.
Although MSOs view advanced advertising as a critical addition heading into next year, don't expect them to roll anything out
en masse
until they can validate and revalidate the technology and have comfort in knowing that all (or at least most of) the kinks are ironed out.
"In 2009, we will see operators and systems deploy this on a small scale before they expand to wide deployments," Arris's Delzio predicts.
— Jeff Baumgartner, Site Editor,
Cable Digital News

(0) |