Digital video specialist BigBand Networks Inc. (Nasdaq: BBND) says cable MSOs can enjoy the fruits of IPTV using a simplified delivery architecture that feeds video directly to edge QAMs and completely sidesteps the cable modem termination system (CMTS).

This "bypass" approach takes the CMTS completely out of the equation, and that's a good thing when IP video is involved, according to Doug Jones, BigBand's chief cable architect.

"CMTSs have been great for data and voice for cable. What CMTSs don't scale well for is video," Jones says.

CMTS routers, he adds, are designed to drop packets. While there are ways to recover or conceal those errors for high-speed data services and even some voice applications, "video is not at all tolerant to dropped packets," Jones explains. If video packets are dropped, "tiling," at a bare minimum, will ensue. If an entire MPEG-2 iFrame is dropped, the result could be up to a second of black screen.

"Edge QAMs don't drop packets... We've proven that with switched digital video," Jones says.

Technical issues aside, routing video through the CMTS isn't cheap, either. Port costs for the hotly contested universal edge QAM (UEQ) sector, however, are dropping like a rock.

And the cost difference isn't trivial. Jeff Heynen, directing analyst, broadband and video, at Infonetics Research Inc. , says a CMTS downstream costs in the range of $3,500 to $4,000. That compares to $320 to $350 for one universal edge QAM (UEQ) downstream.

BigBand's answer to this is "vIP PASS," a software upgrade that enables video heading downstream to flow directly through UEQs, where packets are prepared for delivery to Docsis-certified cable modems. (See BigBand Tunes Up Cable IPTV.)

BigBand isn't alone in this area. Cisco Systems Inc. (Nasdaq: CSCO), Harmonic Inc. (Nasdaq: HLIT), and Motorola Inc. (NYSE: MOT) are among CMTS or edge QAM vendors that have pushed or proposed the concept of IPTV "CMTS bypass" architectures, as well.

BigBand, meanwhile, has added vIP PASS to its BEQ6000 universal edge QAM, as well as its Broadband Multimedia-Service Router (BMR) 1200, its recently introduced MSP2000, and the Switched Broadcast Session Server (SBSS), a product that started off as a control plane for switched digital video (SDV) but has since been adapted to handle IPTV services, as well. (See BigBand Plays It Personal .)

Under the vIP PASS process, linear or on-demand IP-based video is fed directly to the edge QAM, where packets are encapsulated with a Docsis header and sent down the operator's plant to a Docsis cable modem. The video is then passed along to the set-top, TV, PC, or to some other display device that can speak IP. In this scenario, those packets never touch the core CMTS.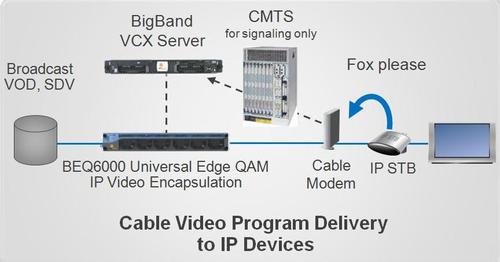 Cross-platform play
In addition to the added layers of personalization that unicast IPTV services can bring to cable, BigBand also thinks its approach could also enable MSO cross-platform/multi-screen strategies. Because the IP video packets are placed in a Docsis wrapper, it follows that they can be delivered to Docsis 3.0 cable modems and then shuttled to any IP-capable device, including PCs, set-tops, gaming consoles, handsets, and even some newer TV models. In BigBand's approach, the SBSS control plane alerts the edge QAM if the device making the request is a PC, TV, or set-top so that the video that comes back is delivered in the proper format.

"Being able to have low-cost entry into IPTV enables operators to explore and innovate on the new home network and all the connected devices," Jones says.

Korean MSO goes CMTS-less
So, who's giving BigBand's concept a try today? Jones says one MSO outside the U.S. is putting it in front of "friendlies" right now. He can't name the MSO, but notes that the deployment is taking place in a country where the government now requires new video service entrants to use IPTV technology.

One possibility is South Korea, where MSOs are looking at either a CMTS bypass or a "Docsis assist" network architecture, according to an industry insider who is familiar with the international cable landscape.

BigBand has been active in the South Korean cable market. Late last year it started preparing for its first SDV deployment there by integrating Alticast Corp. 's SDV set-top client software. Keumkang Cable Networks announced the deployment of BigBand's BMR in the summer of 2007. (See MSO Taps BMR.)

In the U.S., Buckeye CableSystem , which is deploying SDV with BigBand, has hinted that it might give IPTV more than a cursory glance. (See Buckeye Picks BigBand for SDV and RFoG Gets the Squeeze.)

— Jeff Baumgartner, Site Editor, Cable Digital News