AT&T Inc. (NYSE: T) has said it will roll out its U-verse broadband video service, which includes high-definition television, in 15 to 20 markets before the end of 2006. Light Reading now has the skinny on where that's likely to happen.

The project is a huge move for AT&T, which up until now has offered service to 30,000 people in San Antonio and held one, limited HDTV trial in Houston.

Our sources have been able to identify locations where the carrier has added IPTV capabilities to at least one local point of presence (POP), creating a video hub office. The locations of these IP-enabled video hub offices (VHOs) are key, as they more or less spell out exactly where U-verse is heading.

These VHOs act as regional video headends throughout AT&T's local network, which spans 13 states. The VHOs sit in between the company's national content aggregation centers (master headends) and its more than 140 IP video serving offices (local distribution points).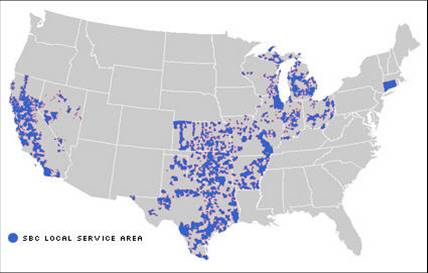 "What's shaping up here is a war of the worlds between cable companies and the telcos," says Kermit Ross, principal at Millennium Marketing. "And what the VHOs indicate is where the battlegrounds are for this war."

While the list of AT&T's VHOs is much longer than 15 to 20 markets, our sources have further weighed in on the cities where they have reason to believe the carrier is most likely to turn on its fiber-fed broadband, phone, and TV services next. The cities believed to be first on AT&T's rollout list, in alphabetical order by state, are listed below:
Little Rock, Ark.
Los Angeles, Oakland, San Diego, San Francisco, and San Jose, Calif.
Hartford and New Haven, Conn.
Chicago, Ill.
Indianapolis, Ind.
Detroit, Mich.
Kansas City and St. Louis, Mo.
Oklahoma City and Tulsa, Okla.
Cleveland and Columbus, Ohio
Austin, Dallas, Fort Worth, and Lubbock, Texas
Milwaukee, Wis.
Here's a map showing our sources' projections for AT&T's U-verse coverage, stemming from its VHO locations, by the end of this year:



That list is includes several of the largest metropolitan statistical areas in the country. But those aren't the only areas where AT&T will turn up video services over the next couple of years. Our sources say that the carrier is also planning for IP video capabilities in the following areas:
Fayetteville and Fort Smith, Ark.
Bakersfield, Fresno, Modesto, Monterey, Sacramento, and Stockton, Calif.
South Bend, Ind.
Champagne, Decatur, and Springfield, Ill.
Hutchinson and Wichita, Kan.
Battle Creek, Grand Rapids, Kalamazoo, Lansing, and Saginaw, Mich.
Springfield, Mo.
Reno, Nevada
Dayton, Toledo, and Worthington, Ohio
El Paso, Midland, and Odessa, Texas
Appleton and Green Bay, Wis.


"Houston is going to be our next market, as we've said," says AT&T spokesman Wes Warnock. "Beyond that, I can't comment."

AT&T first announced its massive access network upgrade, dubbed Project Lightspeed, back in 2004. That encompassed a roughly $4 billion plan to deploy fiber-based services to some 18 million households across 13 states by the end of 2008. In 2005, AT&T launched U-verse, its IPTV service, in San Antonio, and the company has been working out the kinks and putting the service through its paces since that time. (See AT&T: We're Sticking With FTTN.)

Meanwhile, in Dallas and nearby areas, installations of equipment have been going on for months -- and we've got the photos to prove it. (See Lightspeed Unauthorized and AT&T Readies Lightspeed in North Texas.) Houston became the next hotbed of U-verse activity as the company chose some employee homes in the area to roll out its HDTV service. That rollout represented the debut of an upgrade in Microsoft Corp. (Nasdaq: MSFT)'s IPTV middleware and set-top software and, say sources close to the carrier, that's partly why AT&T couldn't roll out HDTV any sooner. (See AT&T Still Has IPTV 'Jitters'.)

In its earnings call last week, AT&T executives said that the company "purposefully" took it slow in San Antonio, only marketing the U-verse service to 30,000 people. "We wanted to trial the service and the platform," said Rick Linder, the company's CFO. "And, frankly, we didn't want to put too many customers on the platform before we had the HD capability."

Going from 30,000 people in San Antonio to millions of people is a huge step for any service. And, assuming AT&T's technology holds up, the battle for consumer communication services will take a new turn as cable companies are expected to drop prices in response to the new AT&T's arrival. (See Hunting Project Lightspeed.)

Analysts say there is definitely a difference between IPTV and regular TV -- and IPTV is compelling technology. Subscribers to U-verse TV can, for example, record up to four shows simultaneously on their DVRs, and they can enjoy picture-in-picture channel browsing on any TV.

But the advertised bandwidth speed of 6 Mbit/s in AT&T's most expensive U-verse package is still quite a bit off the 10 Mbit/s several cable companies are offering today on a best-effort basis.

So, at first, price and bundling will be the biggest weapon in AT&T's new battle for subscribers. "This is a fight for a finite market," says Heavy Reading analyst Graham Finnie. "Whether they'll make any money out of it is a totally different matter."

Cable, where it can, is disparaging the technology that AT&T is so proud of. "There is nothing that AT&T's planned network can do that Cox isn't already doing better," writes Cox Communications Inc. spokeswoman Stephanie Davis, in a note to Light Reading.

AT&T's success, then, "really depends on how well they can explain the difference between IPTV and cable TV -- and how robust a feature set they'll have from day one," says Rick Thompson, Heavy Reading's IPTV analyst .

In a small rollout among friends and family, AT&T's U-verse service went over well. "Within a three-month period, we have achieved about 10 percent penetration across that base," said AT&T CFO Linder in the company's conference call last week. "In some areas, for example, we've gone into some multiple dwelling units where we have gotten penetration as high as 25 percent within a three-month period. So the results there are encouraging to us."

Outside the shadow of AT&T's corporate headquarters, the company may find that competing with cable companies is quite tough. Thompson says that when carriers launch new services like U-verse, they strive for 20 to 30 percent subscriber penetration over a period of five to six years.

Comcast Corp. (Nasdaq: CMCSA, CMCSK), by contrast, recently said that its three-service bundles are available to about two-thirds of its homes passed, and up to half of all new customers are taking them up on the offer.

— Phil Harvey, News Editor, Light Reading